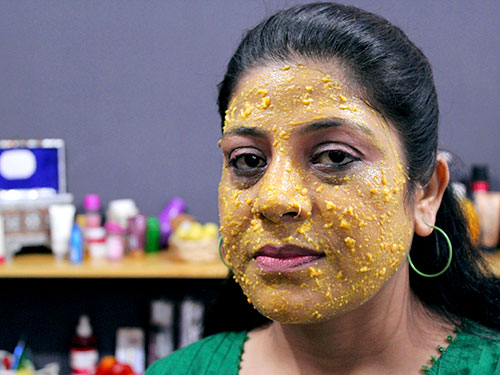 Learn 4 different homemade face pack recipes (होममेड फेस पैक रेसिपीज़) to get soft skin, enhance your complexion, treat your dry skin, wrinkled skin, cures your acne, open pores, dark spots and many more.
Homemade face packs are always best and preferable as they do not have chemical and artificial contents.
According to ayurveda, homemade face pack prepared with natural ingredients are known as "mukha lepa" and the process of smearing this herbal mixture on face is known as "mukha lepana". So the face packs are age old preparations for beauty solutions.
Homemade face pack recipes are generally made by kitchen ingredients including fruits and vegetables, sandal, milk and milk cream, yougurt, tomato, honey, turmeric powder, gram flour and lemon etc. These all ingredients are affordable, easily accessible, reliable and ensure for better benefits than the cosmetics.
Read ahead 4 homemade face pack recipes for festivals and special events which can give you instant positive results without any harm!
Homemade Face Pack Recipes : Video
1. Homemade Face Pack To Get Soft Skin
Sandal is a perfect choice for skin softness.
Take 3 tsp sandal powder.
Add 1 tsp almond oil and 2 tsp coconut oil in it.
Apply this face mask at your face. Leave it for 15 minutes and then rinse with water.
It is suggested to use this face mask every alternate day.
It softens the skin and gives an elegant look.
2. Homemade Face Pack Recipe To Enhance Your Complexion
Milk has bleaching properties because of which it cleanses your face and gives you beautiful fair look.
Take 4 tsp milk cream.
Add 1 pinch of turmeric powder and 2 tsp whole wheat flour.
Apply it at your face and neck. Leave it to dry and then remove it by rubbing gently.
Then wash with tap water.
Your face will become fair and lovely in few days by applying it daily.
3. Homemade Face Pack To Treat Dry And Wrinkled Skin
This face pack is very useful to bring glow on your face.
Mash 1 banana for it.
Add 3 tsp yogurt, 1/2 tsp honey and 1 tsp rose water in it.
Clean your face with face wash or cleansing milk and then apply this face mask.
Leave it for 15 minutes and then wash your face with tap water.
It reduces wrinkles and makes your face glowing by applying daily.
4. Homemade Face Pack To Get Rid Of Acne, Open Pores And Dark Spots
Cucumber and tomato are wonderful skin tonics.
Mix 4 tsp tomato pulp and add 4 tsp cucumber paste.
Add 1/2 tsp turmeric powder, 2 tbsp gram flour, 1 tbsp honey, juice of 1 lemon and 1 tbsp yogurt or fresh milk cream.
If your skin is dry, then use milk cream otherwise use yogurt.
Apply this miraculous face pack on face and neck. Leave it for 20 minutes and then wash with tap water.
It is recommended to use twice a week for few weeks to reduce open pores, acne and pimples.
Now you can pamper your beauty naturally with these homemade face packs. Keep reading my posts to get beauty tips and makeup tips. Don't forget to share your comments, feedback and suggestions with me.
Read Other Beauty Tips and Makeup Tips :
---
---
Write me your feedback and queries about general health and beauty tips in the comment area below.