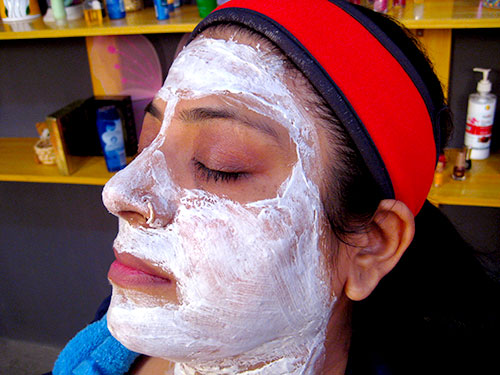 Doing face bleach at home (घर पर ब्लीच करने की विधि ) will not only gives you smooth and glowing skin, hide dark spots, removes pigmentation and treats unwanted hair in your own comfort, but also save your time and hard earned money too.
Bleaching skin is a very common beauty treatment used by women of all age groups. It is a process where the contents of bleaching cream change the color of your hair, making it so light, that it almost matches with your skin color and becomes less visible. It also cleans your skin and gives it a nice glow.
Let's learn the detailed method of doing face bleach at home.
You only required:
1. face bleach
2. face wash
3. sponge
4. moisturizer
You can purchase all cosmetic products from http://amzn.to/2ee0CTd
Face Bleach At Home : Video
Face Bleach At Home : Step By Step Instructions
First of all, you must clean your face very well with the help of face wash. Then wipe it well with a towel.
Be sure that the face is completely dry before applying bleach cream.
Now, take 2 scoops of bleach cream in a bowl. Add 1 pinch of activator in it and mix it well.
Don't add too much activator. It can harm your facial skin.
Also remember to apply bleach cream instantly after mixing the activator. If you will keep it for a while, it can harm your facial skin.
If you are applying bleach first time on your face, then better to do a patch test first.
Apply a small quantity of bleach at your wrist and leave it for 5 minutes for patch test. If you have severe irritation, then don't apply bleach on your face.
After patch test, apply it in upward direction on your face. Start applying it from the chin and end it at forehead.
Don't apply it on eyebrows, around the eyes, under eyes and lips.
If your skin color is fair then keep it on your face for 10 minutes, but if your skin color is dusky then keep it on your face for 15 minutes.
If you have severe irritation meanwhile, then remove the bleach immediately. Also rub a ice cube on your face in this case.
Now clean the bleach with the help of damp sponge or cotton swab in downward direction.
Then wipe your face with a towel.
You can apply a gentle moisturizer after bleaching.
You can check whether the bleaching has been done perfectly or not by analyzing your facial hairs. If all of the facial hairs turn golden then the bleaching has been done perfectly.
Note :
After bleaching do not expose yourself to sunlight for few hours thus it is best to use bleach cream in the evening.
Other DIY Posts :
---
---
Write me your feedback and queries about beauty tips and general health issues in the comment area below.