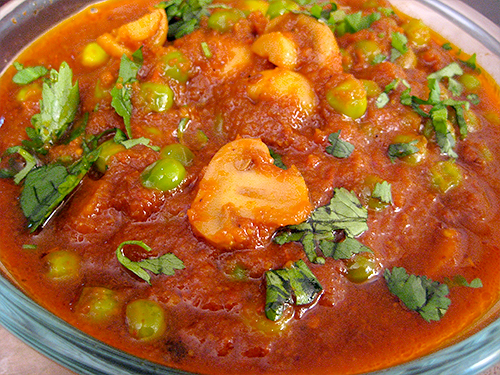 Matar mushroom recipe (मटर मशरूम रेसिपी) is a semi dry vegetable recipe of Indian Cuisine. Fresh green peas and mushroom are cooked in onion-tomato gravy and flavoured with some whole and powdered spices.
This vegetable can be served with plain chapati, tandoori roti, naan, missi roti, lachha paratha or even taste superb with bajra roti and makka roti.
Let's take a quick view of the ingredients required to make this matar mushroom recipe:
1. Peas                                             :    125 grams
2. Mushroom                                 :    125 Grams
3. Onions                                        :    4 (paste)
4. Tomato                                       :    6
5. Ginger                                         :    1 (lemon sized piece)
6. Garlic                                          :    6 cloves
7. Green Chili                                :     2
8. Oil                                                :     2 tbsp
9. Asafetida                                   :     1/4 tsp
10. Bay leaf                                    :     2
11. Cinnamon                                :     2 pieces
12. Cloves                                       :     4
13. Black Pepper                          :     4
14. Cumin Seeds                          :     1 tsp
15. Whole Red Chili Pepper      :     2
16. Salt                                           :     to taste
17. Red Chili Powder                  :     1 tsp
18. Coriander Powder                :     2tsp
19. Turmeric Powder                  :     3/4 tsp
20. Garam Masala Powder        :     1 tsp
21. Fresh Coriander Leaves      :     25 Grams
Matar Mushroom Recipe Video :
Matar Mushroom Recipe Step by Step Instructions:
First of all, prepare tomato puree by blending tomatoes, ginger, garlic, green chilies, coriander powder, turmeric powder, red chili powder and salt together with some water.
Now, heat oil in a wok.
Add asafetida and all the whole spices in hot oil to crackle.
Then add onion paste and cook on medium flame until light brown.
Now add tomato puree in it and cook on medium flame for 5 minutes.
Finally add fresh peas and mushroom in this gravy. You can also add some water if required.
Let it cook on medium flame until peas become soft. Stir the vegetable occasionally.
When oil starts to come at surface, it means your delicious matar mushroom vegetable is ready.
Sprinkle garam masala powder and garnish it with fresh coriander leaves and serve hot.
Other Posts:
---
---
Make delicious matar mushroom recipe and write me your feedback in comment area below.