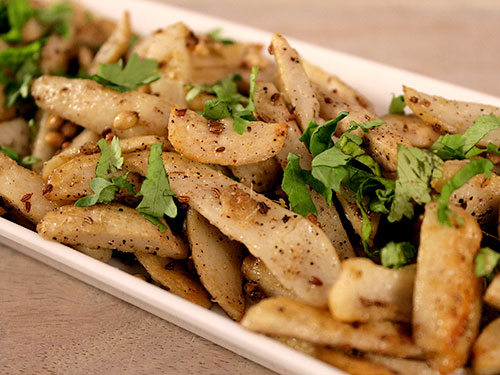 Piquant or Chatpati arbi recipe (चटपटी अरबी रेसिपी) is a fasting vegetable recipe from Indian Cuisine, cooked in ghee and some spices.
This arbi recipe can be a good choice and bring a new change in your fasting menu during your navratri or other fasting days.
The principal ingredient of this recipe is arbi which is chopped lengthwise in thick pieces and cooked on low flame with ghee and spices including carom seeds, coriander seeds, grated ginger, black pepper and rock salt. Use of lemon juice adds piquant flavor in it and the aroma of fresh coriander leaves is enough to make you hungry.
This arbi recipe can be served with sabudana roti, kuttu aata puri, falahari uttapam and many other fasting breads. However it can be simply enjoyed as a snack also.
Ingredients Required To Make Chatpati Arbhi Recipe:
1. Arbi : 250 gm (chopped lengthwise in thick pieces)
2. Ginger : 1 tsp (grated)
3. Coriander Seeds : 1 tsp
4. Carom Seeds : 1 tsp
5. Rock Salt : to taste
6. Black Pepper Powder : 1/2 tsp
7. Lemon Juice : 1 tbsp
8. Ghee : 1 tbsp
9. Coriander Leaves : 1 tbsp (finely chopped)
Chatpati Arbi Recipe Video

:
Chatpati Arbi Recipe Step by Step Instructions:
Splutter carom seeds and coriander seeds in hot Ghee.
Add ginger, arbi and rock salt in it. Let it cook on low flame with covered lid till arbi cooks completely.
You need to stir it occasionally otherwise arbi will stick to the bottom of the wok.
Finally add black pepper powder and remove it from the flame.
Mix fresh lemon juice in it. Garnish it with coriander leaves and serve your delicious falahari arbi hot.
Other Posts:
---
Subscribe Sameer Goyal at ekunji to get recipe updates.
Make delicious chatpati arbi recipe and write me your feedback in comment area below.
---