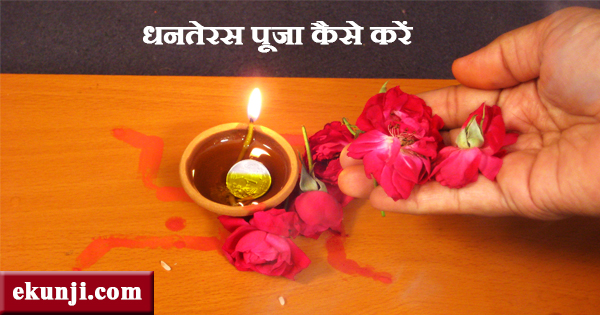 Diwali Festival starts on Dhanteras. Lakshmi puja starts on this day.
I am sharing with you how to do Yama Deepdan, Dhanwantari puja and Lakshmi puja on Dhanteras.

Dhanteras Puja Vidhi Step 1 – Light Earthen Lamp For Lord Yama (Yama deepak)
1. Take a small wooden slab with small legs (पट्टा).
2. Make a swastik with roli on it.
3. Now put an earthen lamp on it and light the earthen lamp.
4. Now take a cowry shell with hole and put it into earthen lamp.
5. Shower water (Gangajal or pure water) around lamp 3 times.
6. Put tilak of roli on lamp. Then put raw whole rice on tilak.
7. Offer some sugar to it. (Just put some sugar in the lamp).
8. Put 1 rupee coin in it.
9. Now offer some flowers to lamp.
10. Do pranam to earthen lamp.
11. Offer tilak to family members.
12. Now place this lamp outside main gate of your house. Place it on right side of door. It's flame must face towards south direction.
Dhanteras Puja Vidhi Step 2 – How to Do Dhanwantari Puja
After lighting earthen lamp for Lord Yama do dhanwantari puja at your home.
1. Sit in your puja room.
2. Recite Dhanwantari Mantra at least 108 times. Dhanwantari mantra is : "Om Dhan Dhanvantaraye Namah" "ॐ धं धन्वन्तरये नमः".
3. Say after the end of recitation, "O Lord Dhanwantari! I offer this recitation in your lotus feet. Please give us good health."
Dhanteras Puja Vidhi Step 3 – How to Do Ganesh Lakshmi Puja on Dhanteras
After Dhanwantari puja you must do panchopchar puja of Lord Ganesh and Goddess Lakshmi.
1. Ganesh Panchopchar puja : First do puja of Ganesh ji.
Show earthen lamp to him.
Offer dhoop to him.
Offer scent to Lord Ganesha.
Offer flowers in his lotus feet.
Offer sweets (naivedya) to Lord Ganesh.
2. Lakshmi Panchopchar Puja : Do panchopchar puja of Goddess Lakshmi same as you did of Lord Ganesh.
Watch this video to see how to do panchopchar puja of Lord Ganesh and Goddess Lakshmi :

Wish you a very Happy Dhanteras.
Dhanteras Puja Muhurat on 21st October 2014 : From 7:13 pm to 8:22 pm (Sthir Vrishabha Lagna)
Write your comments below to share your experience with Dhanteras Puja Vidhi.
Subscribe Me to get updates.