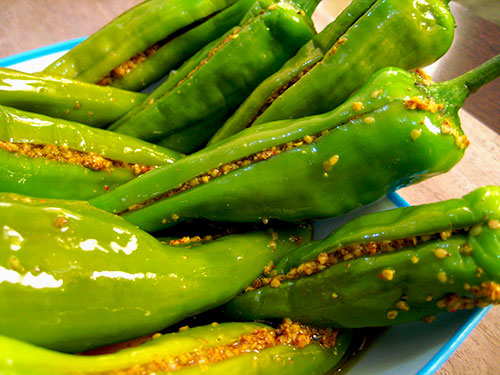 Green chilli pickle recipe (हरी मिर्च के आचार की रेसिपी) is an easiest way to spice up any meal. This pickle recipe has a different aroma and flavour which beautifully pairs with different parathas, khichdi, savory porridge, dal–rice, puris or even tastes awesome with chola-bhatura.
Green chilli pickle is one of the famous condiments of Indian Cuisine. Let's take a quick look to the ingredients which are required to make this mouthwatering pickle recipe – Hari mirch ka achar…. yum-yum!
We need :
1. Green Pepper                    :     250 gm (Fresh and whole)
2. Fennel Seeds                     :     3 tsp (Crushed)
3. Yellow Mustard Seeds    :     3 tsp (Split)
4. Black Mustard Seeds      :     3 tsp (Ground)
5. Salt                                      :     To Taste
6. Red chili powder             :      1/2 tsp
7. Vinegar                              :      3 tsp
8. Mustard Oil                      :      2 cup (boiled and cooled)
Green Chilli Pickle recipe: Video
Green Chilli Pickle recipe: Step by Step
Rinse fresh whole green peppers and wipe with a dry cloth. Now slit the peppers lengthwise.
Mix crushed fennel seeds, yellow mustard seeds, black mustard seeds, salt, red chili powder and vinegar in a bowl.
Stuff this mixture in whole green peppers.
Put the stuffed green peppers in a Jar.
Pour pre-boiled and cooledmustard oil in the Jar.
Press down the stuffed peppers with the help of a spoon so that the peppers will properly immerse in oil.
Your green pepper pickle will ready to eat within 2-3 days.
Recipe notes :
For a milder pickle, remove the pepper seeds prior to stuffing with spices.
Related Recipes :
---
---
Make piquant flavor green chilli pickle recipe and write me your feedback in comment area below.