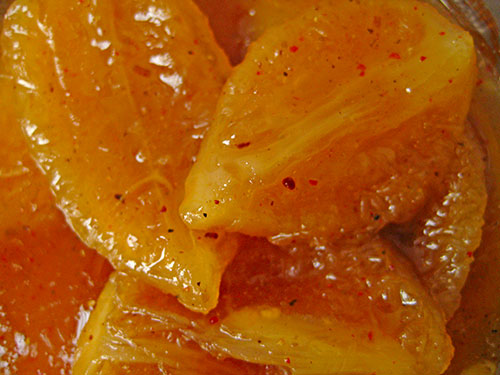 A like, a tingling tongue, and a bite later you fall into the heavenly sensation of food coma… Err, in a good way! 😉
Pickle or achaar has been a part and parcel of the Indian diet. It is a great accompaniment to pep up your entire meal. Owing to this tangy sometimes sweet or sour taste which has captivated the Indian taste buds for so long, the pickles have become a regular part of our staple diets.
Sweet and sour lemon pickle makes a piquant counterpoint to the staid combination of dal and rice, khichdi or any hot paratha. Moreover Lemon Pickle or नींबू का अचार is a digestive solution. If you have it with food then you can digest your meal faster. And ultimately, even in sick, lime pickle can ignite hunger and induce taste buds to have meals.
In India we make a huge variety pickles from both fruit and vegetables, seasonal and year round. Lemon and mango pickle are the favorites and as they have a long shelf life are made in large quantities. Lime is an essential ingredient of any cuisine from India, and many varieties of pickles are made, e.g. sweetened lime pickle, salted pickle, and lime chutney.
Lemon pickle must be prepared in winter season. Lemons with thick skins are available in these months. It is tasty, tangy and can be stored for many months.
Once it is ready to consume, you can keep it for several months or even up to three four years. The spices and the oil do a great job of preserving the limes for a really long time.
One tiny bite would tickle your taste buds but leave them completely refreshed, get your limes ready, and…chop, chop!
Lemon pickle recipe : Video
Lemon Pickle Recipe : Step by Step
First of all, wash lemons properly and wipe with a muslin cloth.

Cut each lemon lengthwise in four pieces.

Squeeze all the lemon pieces to collect lemon juice and lemon seeds in a bowl.

Be sure that the lemon seeds must not remain in lemon pieces otherwise your pickle will get bitter.

Take salt in a plate and dab the squeezed lemon pieces over salt and fill in a dry jar.

Sieve the collected lemon juice and pour it in jar.

Add black salt and remaining white salt in pickle and close the lid tightly.

keep this jar in direct sun light for 25 days. Shake the jar properly once or twice every day.

Take out this half done pickle in a clean and dry bowl.

Add sugar, red chili power and gram masala in it and mix it very well.

Again fill this pickle in the jar and keep in direct sunlight for 1 week. Don't forget to shake the jar twice every day.

Your tangy sweet and sour lemon pickle will ready to eat in one week.

Enjoy the taste and healthy bites of this tangy pickle with dal chawal, kichdi, puri-kacori and parathans !
Please make sure all the utensils, spoons and ladles, knife and cutting board and storage jars are dry and moisture free as any moisture content will reduce the life of pickle.