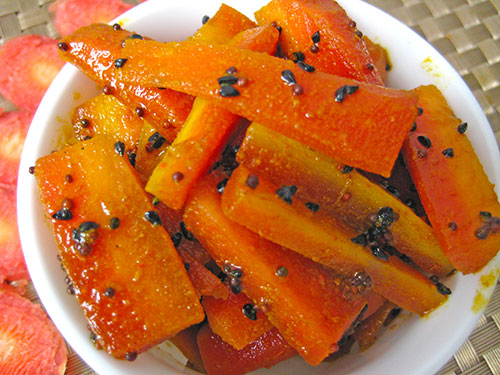 Carrot pickle recipe is one of the easiest and most economical pickles recipe to make. Pickled carrots keeps well, taste good and can do a lot, full of healthy nutrients carrots are everyone's favorites. Carrots are usually more fresh and better during winters but on the other hand it does have the liberty to be prepared at any point of the time during the year. Pickled carrots is an easy to get our daily dose of Vitamin "A" by incorporating in our daily diet.
With a beautiful bright red colour, this pickle goes very well with rotis, different knid of parathas, khicdi, savory porridge, dal-rice and puris etc.
This carrot pickle (गाजर का अचार) is a perfect accompaniment with your meals. Read ahead the simple recipe of this crunchy carrot pickle and enjoy with your daily meals.

Carrot Pickle recipe : Video
Carrot Pickle Recipe : Step by Step
Keep this jar in direct sunlight for 2 days.Keep shaking it frequently.

Your tasty carrot pickle will ready to eat in 2 days.

Enjoy the taste and healthy bites of this tangy carrot pickle with dal chawal, kichdi, puri-kacori or parathans !
Never put a wet spoon into a pickle jar! This will cause the pickle to go bad.
Related Recipes :
---