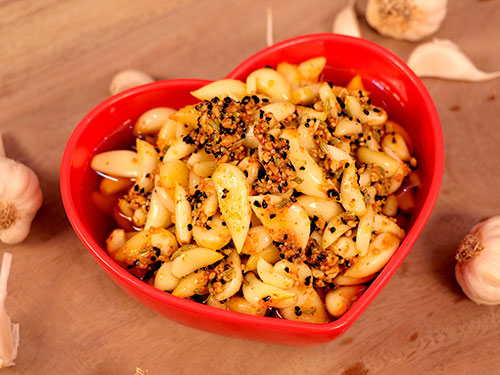 Garlic pickle recipe (लहसुन के अचार की रेसिपी) is a famous pickle of Indian Cuisine. It is prepared by mixing peeled garlic cloves with some basic spices which are used in most of Indian pickles recipes including mustard seeds, fenugreek seeds, onion seeds and fennel seeds along with mustard oil.
Garlic pickle goes well with different parathas, puri, dal, rice and pulao. This garlic pickle is also good to carry in travelling as it has good shelf life.
Serving                       :          250 Gram
Prep Time                  :          30 Minutes
Cook Time                 :          15 Minutes
Passive Time             :         45 Minutes
Ingredients for Garlic Pickle Recipe:
1. Garlic                                    :                  250 gm (cloves)
2. Fenugreek Seeds              :                  1 tsp
3. Yellow Mustard Seeds    :                   3 tsp
4. Onion Seeds                      :                   1 tsp
5. Fennel Seeds                     :                   1 tsp
6. Salt                                       :                   to taste
7. Turmeric Powder             :                   1/2 tsp
8. Red Chili Powder             :                   1 tsp
9. Mustard Oil                       :                   300 ml
Garlic Pickle Recipe Video:
Garlic Pickle Recipe : Step by Step Instructions
Heat oil till smoking point and then switch off the flame.
Let the reach at moderate temperature.
Then add all the spices in it and let it rest for 10 minutes.
Now add garlic cloves in it. Mix your picklewell and fill in a jar.
Keep this jar in sunlight for 7 days and shake the jar occasionally.
A delicious and healthy garlic pickle will get ready in 7 days.
Pickled garlic is a great and inexpensive way to enjoy excellent flavor and its health benefits too. Keep reading my recipe blogs and enjoy cooking!
Related Recipes :
---
---
Make aromatic garlic pickle recipe and write me your feedback in comment area below.