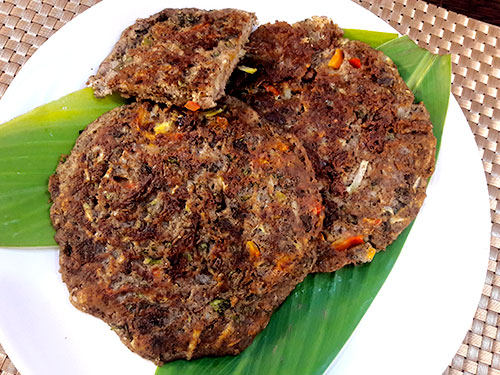 Falahari uttapam (फलाहारी उत्तपम रेसिपी)  is a pancake recipe which is one of the versions of famous uttapam recipes from South Indian cuisine. It is a shallow fry recipe which is prepared with a thick batter. Chopped veggies and toppings used in this recipe are cooked within the batter.
Falahari uttapam is prepared with kuttu flour, yogurt and some finely chopped or grated vegetables including bottlegourd, tomato and cucumber. Use of ginger paste and green chilli paste make it little bit spicy. Fresh coriander leaves gives it a nice aroma.
It is especially made during fasting days in India for falahar or sagahar purpose.
This falahari uttapam is one of those fasting recipes which are filling, nutritious and tastes well. It can be enjoyed with plain yogurt, raita, dahi wale aloo or masala aloo.
Ingredients Required for Falahari Uttapam Recipe:
1. Kuttu Flour : 100 gm
2. Yogurt : 50 gm
3. Bottle Gourd : 50 gm (grated)
4. Tomato : 1 (finely chopped)
5. Cucumber : 1 (grated)
6. Ginger Paste : 1 tbsp
7. Green Chili Paste : 1 tbsp
8. Coriander Leaves : 2 tbsp (finely chopped)
9. Cumin Seeds : 1/2 tsp
10. Rock Salt : to taste
11. Ghee : 2 tbsp
Falahari Uttapam Recipe Video:
Falahari Uttapam Recipe Step by Step Instructions

:
Mix all the ingredients in a bowl except Ghee and make a thick batter.Now grease a hot non-stick pan or tawa with Ghee.
Pour 1/2 cup batter on pan on low flame and spread the batter in circular shape. It should have approximately 1/4 inch thickness.
Drizzle 1 tsp Ghee around the Uttapam so your Uttapam will not stick to the pan.
Let your Uttapam cook on low flame for 3 to 4 minutes.
Flip it gently and cook another side on low flame.
Delicious falahari Uttapam is ready. Serve it hot with coconut chutney and make your fasting days more enjoyable.
Related Posts:
---