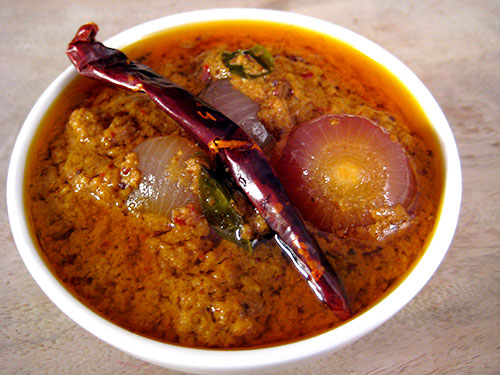 Onion salan recipe (प्याज के सालन की रेसिपी) is an amazing curry recipe from South Indian Cuisine which has a distinct aroma and characteristic flavor. It is a rich flavorful gravy based dish made with a blend of onions cooked in medley of aromatic spices along with nutty paste made from peanuts, sesame seeds, cumin seeds, coriander seeds and whole red chili peppers. Whole onions cooked in this gravy on moderate heat and absorb all the flavors.
The salan has a rich and complex flavor using curry leaves  in gravy which ultimately heightens the flavor. Use of tamarind pulp adds light tanginess in it.
This spicy and tangy curry is a perfect combination of spices and flavors which goes well with different flat breads including chapati, parathas, missi roti etc. You can also enjoy it with various rice recipes.
Serving                      :       4 Persons
Prep Time                 :      15 Minute
Cook Time                :      15 Minute
Passive Time            :      30 Minute
The required ingredients are divided in two parts to make onion salan :
We need 5 whole spices:
1. Peanuts                                              :                 4 tsp
2. Coriander Seeds                              :                 2 tsp
3. Cumin Seeds                                     :                 1 tsp
4. Sesame Seeds                                  :                 2 tbsp
5. Dry Whole Red Chili Peppers      :                 3
For Salan, we need:
1. Onion                                            :                10 (small sized)
2. Ginger Garlic Paste                   :                2 tsp
3. Onion Paste                                 :              of 2 onions
4. Black Mustard Seeds                :               1 tsp
5. Fenugreek Seeds                       :                1 tsp
6. Curry Leaves                               :                1 tsp
7. Salt                                                 :                to taste
8. Turmeric Powder                       :                1/4 tsp
9. Tamarind Pulp                            :                 2 tsp
10. Oil                                                :                 2 tbsp
Onion Salan Recipe Video:
Onion Salan Recipe : Step by Step Instructions
Dry roast all the 5 whole spices and then grind in a grinder to make powder.
Now heat oil in a kadahi and crackle black mustard seeds, fenugreek seeds and curry leaves in it.
Then add ginger garlic paste and onion paste in it. Roast it on medium flame until golden brown.
Now add salt, turmeric powder and spices powder. Mix it well and cook on low flame for 5 minutes.
When oil starts to separate; then add water, tamarind pulp and whole onions in it.
Cover it with lid and cook it until onions become soft.
Delicious Pyaj ka Saalan is ready to serve hot with Roti and other Indian breads.
Other Vegetable Recipes:
---
---
Try this yummy onion salan recipe and write me your feedback in comment area below.