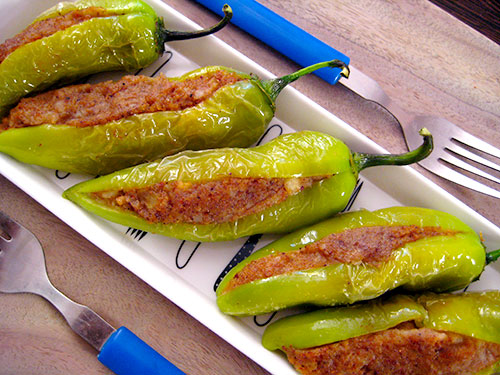 Get stuffed chili recipe (भरवां मिर्च रेसिपी) from Indian Cuisine which is prepared with some hand full ingredients including green chilis, boiled potatoes and some basic spices then shallow fried in oil.
It is an easy recipe which performs as a good side dish and can also be eaten as a dry vegetable with many dishes such as parathas, puri, dal–rice, kichdi, porridge, pulao etc. These stuffed chilis are not at all spicy and even a small kid can eat them.
It is also good to carry for travelling or picnic purpose and can be stored in an air tight jar for 2 days under refrigeration.
If you have boiled potatoes ready in your hands then it can be made in jiffy. Let's proceed with the stuffed chili recipe and enjoy making them!
Serving                     :        5 Pieces
Prep Time                :        10 Minutes
Cook Time               :        10 Minutes
Passive Time           :        20 Minutes
Ingredients Required To Make Stuffed Chili Are :
1. Boiled Potato                        :               4
2. Green Chili                              :              5
3. Salt                                            :              to taste
4. Red Chili Powder                  :              1 tsp
5. Garam Masala Powder        :              1 tsp
6. Dried Mango Powder          :              1 tsp
7. Oil                                              :              2 tsp
Stuffed Chili Recipe : Video
Stuffed Chili Recipe : Step by Step Instructions
Mash the boiled potatoes and add all the spices.
Now slit all the chilies and stuff with potatoes.
Finally, heat oil in a wide pan and cook all the stuffed chilies until golden.
Hot and spicy stuffed chili recipe is ready to enjoy !
Other Vegetable Recipes :
---
---
Try this stuffed chili recipe and write me your feedback in comment area below.