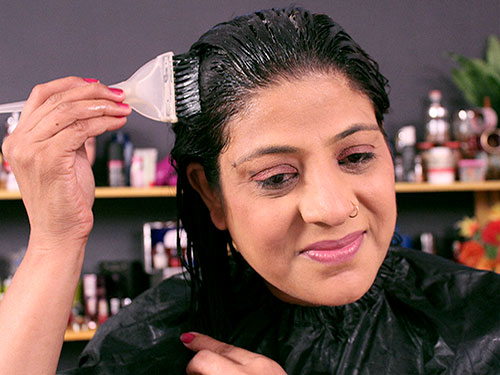 Open your refrigerator, take out the fruit bowl and mix some other kitchen ingredients and get an unlikely source of topical nourishment for your hair!
Friends today I am having a natural homemade hair mask recipe (होमेमेड हेयर मास्क)  which can do wonders for your hair. This hair mask is packed with moisturizing ingredients. It will nourish and soften your hair, promote growth, and resolve dry, oily, dull or damaged hair problems.
Every woman wants to have strong, smooth and shiny hair. When the outer layer of hair is damaged, your hairs look unhealthy, dry and rough. This is due to several reasons including:
Use of excessive hair styling
Regular exposure to sun
Use of chemicals in terms of harsh hair care products
Chlorine water of swimming pool
Medicinal side effects
To get rid of these problems, many of us use numerous chemical based hair care products. But due to course of time these products can harm and we lose the natural look and shine of our hair.
Homemade hair masks contain no harsh chemicals as they made from natural ingredients which are the best alternatives to restore the beauty of your hair. Read ahead the list of ingredients used in today's hair mask recipe and the method to make and use this hair mask.
Homemade Hair Mask Ingredients:
2 eggs
2 table spoon yogurt
1 mashed banana
2 table spoon lemon juice
2 table spoon olive oil
2 table spoon honey
Homemade Hair Mask Recipe : Video
Homemade Hair Mask Recipe And Step By Step Method To Apply:
Add all the ingredients in a bowl and beat properly to make a smooth pack.
A miraculous hair pack is ready which can make your hairs strong and shiny.
Then divide your hair into two sections from middle.
Now apply the pack with a brush from roots towards the tip of your hair.
Apply this pack in whole of your hairs in small partitions as shown in the video.
Also apply this pack at the roots of the hairs at the back neck.
Now comb your hair gently. It will ensure the uniform application of the hair pack.
Finally clutch you hair and wear a shower cap for 1/2 an hour and then rinse your hair with tap water.
You can also shampoo your hair.
It is suggested to apply this pack once a week for few weeks to make hairs strong and shiny.
So skip the unnecessary expenses and the toxins and chemicals found in commercial hair products and try this super simple homemade hair mask recipe to care your hair!
Other DIY Posts :
---
---
Write me your feedback and queries about general health and beauty tips in the comment area below.