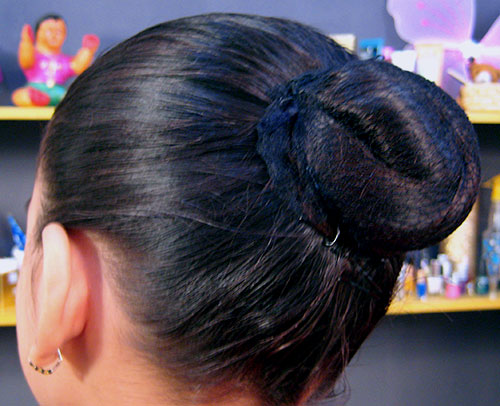 Hi guys, after sharing the fishtail braid hairstyle, today I have come up to share a detailed procedure of how to make bun hairstyle (जूड़ा बनाने के टिप्स) which is a popular hairstyles that never go out of fashion. A bun is popularly used by women to do up their hair and all time favorite hairstyles among all age groups of females.
This easy back bun hairstyle can be the best pick for females who generally take long time to get dressed for the party. This palin bun hairstyle looks absolutely classy and takes only few minutes to be done. You only need to comb your hair, roll them and tuck them with the use of some bobby pins and bun pins.
It can be done from shoulder length to long length hair. Bun hair style especially looks fabulous with thick hairs.
Bun hairstlye not only increases the beauty and over all looks of a girl but also protects your hairs ends from getting damaged and hence it keeps hairs healthy. It is a perfect everyday hairstyle and works equally well for parties.
Go ahead with the detailed procedure of how to make bun hairstyle by following the described steps with video!
The basic hair styling tools are needed to make this bun hairstyle :
1. Comb or Brush
2. 1 Elastic Band
3. Hair Spray
4. Few Bobby Pins
5. Bun Clip and
6. Bun Net
How To Make Bun Hairstyle : Video
How To Make Bun Hairstyle : Steps
Start with back combing and then make a ponytail.
Now set your hairs with hair spray.
Twist your ponytail from top to bottom and then roll around the roots. Fix it with pins in between.
Finally fix bun net with the help of bun clip.
You are ready with a beautiful look.
So friends, this is how to make bun hairstyle. Try this hairstyle and share your feedback with me. I will come back with new posts for hairstyles, beauty tips, home remedies for good health and yummy recipes soon!
Related Posts :
---
For subscription
---
---
Write me your feedback and queries about general health and beauty tips in the comment area below.