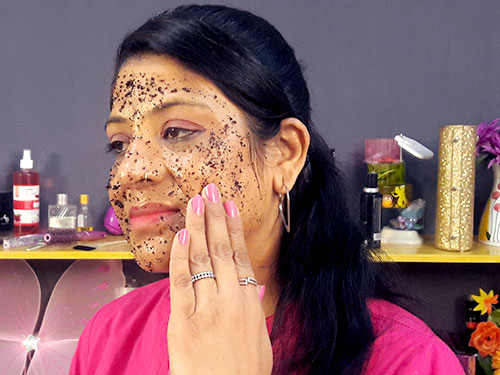 Get homemade face scrub recipes (होममेड फेस स्क्रब रेसिपीज़) which can be made with ingredients you already have around kitchen including sugar, olive oil, honey, rice, coffee, banana, tomato, lemon, cucumber, yogurt etc.
These homemade beauty products are always budget friendly, save time and are absolutely chemical free. So it's completely a win-win deal to use homemade face scrub and other beauty products.
So do a quick raid of your kitchen to accumulate these fantastic natural ingredients that will do wonders for your skin!
Homemade Face Scrub Recipes Video:
1. Homemade Face Scrub Made With Banana
Mash 1/2 banana properly.
Add 2 tsp sugar powder and 1 tsp honey in it.
Rub this banana scrub on your face and neck for 5 minutes. Then wash your face with tap water.
It gives you very youthful and glowing look by using twice a week regularly.
2. Homemade Face Scrub Prepared With Coffee
A very good scrub can be prepared with coffee beans.
Grind 10 coffee beans coarsely.
Add 1 tsp olive oil and 1 tsp sugar in it.
Splash some water on your face and then scrub your moist face for 3 minutes with this coffee scrub.
Then wash your face with lukewarm water.
It is suggested to use this coffee scrub twice a week to keep your face glowing and beautiful.
3. Homemade Face Scrub Of Tomato And Sugar
Tomato cleans our skin effectively as well as decreases ageing effect.
Cut tomato in halves and apply sugar over one half.
Rub it on your face for 5 minutes in circular motion. Then wash your face with tap water.
If you will use this tomato scrub twice a week regularly, it will remove dead skin from the face and will give you a youthful look.
4. Homemade Face Scrub Made With Rice And Yogurt
Take 2 tsp rice grains. Grind them in a grinder in a way that most of the grains convert in flour with very tiny grains within it.
Add 4 tsp yogurt and 2 drops of olive oil in it.
Apply this paste on your face in circular motion.
Leave it for 10 minutes and then wash it with tap water.
It removes dead skin and also lightens your skin color to give you fair and lovely look by using twice a week regularly.
The ingredients used in these homemade face scrub recipes are having good scrubbing qualities which effectively clear and slough off dead skin cells to make way for new skin cells, leaving rough and/or flaky facial skin feeling smooth.
Keep reading my posts to get beauty updates on regular basis!
Other Posts :
---
---
Write me your feedback and queries about beauty tips and general health in the comment area below.