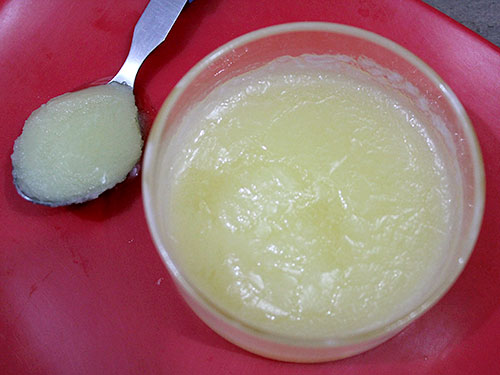 The myriad health benefits of ghee ( घी के स्वास्थ्यवर्धक लाभ)  include abdominal cleansing, treatment of constipation, healing of your cracked heels, curing burning sensation of feet and palms, good to treat bleeding  piles condition as well as able to turns your grey hair to natural  black hair.
Ghee is considered as an essential ingredient of a balanced diet in India. It contains both Omega 3 and Omega 6 fatty acids including minerals, vitamins A, E, D and K, conjugated linoleic acid and lots of phenolic anti-oxidants.
Ghee is the reservoir of energy. 1 tbsp of Ghee contains 469 KJ (112 kcal) energy. It is almost equivalent to 200 ml milk. Clarified butter or Ghee made of cow milk is considered best. If it is not available, then any other kind of clarified butter can be used.
Because of its above said nutritional values, it is used for medicinal purpose to treat many health conditions.
Some of the health benefits of ghee with health recipes are mentioned below.
Health Benefits Of Ghee – Video
1. Health Benefits Of Ghee For Abdominal Cleansing :
Add 1 tsp ghee to 200 ml hot milk and mix it well.
Drink this milk hot at any time.
Drinking it daily for few days clears intestines quickly.
2. Health Benefits Of Ghee To Heal Cracked Heels
Add 1 tsp salt in 1 tsp Ghee and mix it well.
Apply it over cracked heels daily at night before going to sleep.
Doing it daily for few days cures cracked heels.
Applying it in winter season prevent heels from cracks.
3. Health Benefits Of Ghee To Cure Burning In Feet And Palms
Many people feel burning sensation in their feet and palms. Ghee can help them a lot to cure it.
Do massage of Ghee on feet and palms at any time.
Doing it daily for few days cures burning sensation of feet and palms rapidly.
4. Health Benefits Of Ghee To Treat Bleeding Piles
Take 1 tsp ghee.
Add 1 tsp crushed white sesame seeds to it.
Take it daily once a day at any time.
You can take it from 15 to 30 days. It gives great benefit in bleeding piles.
5. Health Benefits Of Ghee To Get Rid Of Grey Hair Problem
In case of premature grey hair it is recommended to do massage on head with ghee.
Doing it for long time gives nutrition to hair roots and hairs turn to black gradually.
It also improves memory and cures headache.
Many of the medicinal properties of herbs and spices can be absorbed and transported to targeted areas of the body with ghee. This is exactly why Ayurveda uses ghee in thousands of different herbal preparations such as ghee cleanses and enemas.
Other health benefits of Ghee are including :
1. Encourages a Healthy Digestive Tract
2. Boosts the Immune System
3. Lowers Bad Cholesterol (LDL)
4. Reduces Risk of Chronic Disease
5. Good For Eye Health
Though ghee is highly rich in fat, but little amount of ghee can be consumed daily. It is good for strength and lubrication of all joints of body.
Ghee is considered sacred in India and Ayurveda. Panchamrit made for offerings to deities is very healthy thing.
Related Links :
---
Subscribe Me to know more Home Remedies and Health Benefits at ekunji.com.
Subscribe Sachin Goyal at Youtube channel for more home remedies.
Join Sachin Goyal at Facebook
Join Sachin Goyal at Google+
---