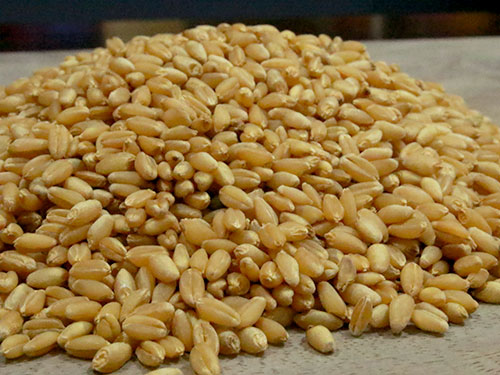 Wheat benefits for health (गेहूँ के स्वास्थ्यवर्धक लाभ) are vast and having the abilities to cure itching and burning sensation in the body, improves immunity power, treats hair dandruff nicely, give protection against kidney stone problem and many more.
We consume wheat in many forms such as roti, poori, halwa, bread etc. Wheat is 3rd most produced cereal in whole world. The reason behind is that wheat is not only nutritious but also it is a natural medicine alone for many diseases. As per USDA nutrient database, wheat is rich in catalytic elements, mineral salts, calcium, magnesium, potassium, sulfur, chlorine, arsenic, silicon, manganese, zinc, iodide, copper, vitamin B, and vitamin E.
Wheat is rich in carbohydrate. Also its protein is easily digestible. It makes it easier to consume on daily regular basis. Wheat is used in the form of flour, sprouted seeds, wheat grass and its juice. All these forms are good for health.
Below are the abundant health benefits of wheat with health recipes.
Wheat Benefits For Health – Video
1. Wheat Benefits For Health To Prevent Itching And Burning Sensation :
Add little amount of water in 1 tsp wheat flour and mix it well.
Apply this paste over itchy area. Leave it for 2-3 hours and then wash it.
Doing it daily for few days cures itching and burning sensation.
2. Health Benefits Of Wheat To Boostup Immunity
Soak 100 gm wheat in 200 ml water overnight.
Sieve this water in morning and add 1 tsp honey to it and mix it well.
Drink this water daily in morning on an empty stomach.
Doing it daily for approximately 1 month is good to improve immunity power of body.
3. Wheat Benefits For Health To Treat Hair Dandruff
Wheat grass juice is very good to cure dandruff.
Apply wheat grass juice in hair and head. Leave it for 10 minutes and then wash it with tap water.
Doing it daily for few days cures dandruff rapidly.
4. Health Benefits Of Wheat To Get Rid Of Kidney Stone
Soak 50 gm wheat and 50 gm black chickpeas in 200 ml water overnight and boil in morning.
Then sieve this water and let it become lukewarm.
Drink this warm water daily once a day.
You can take it from 1 to 2 months. It gives great benefit in kidney stones.
Other health benefits of wheat are:
1. Controls Obesity
2.Protective Against Breast Cancer
3.Cures Childhood Asthma
4.Prevents Hypertension
5.Lowers bad cholesterol
6.Prevents Constipation
7.Improves digestion
In short, wheat is an unavoidable ingredient for health as it gives strength to body. Using wheat after knowing its benefits makes it more important in your daily life.
Related Links :
---
---
Write me your feedback and queries about general health tips in the comment area below.