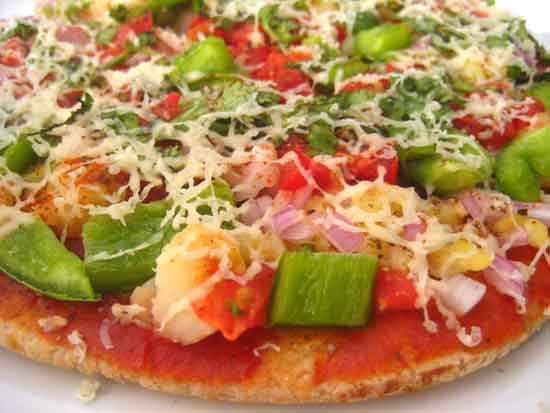 If you love to experiment with your food, you must love to make Pizza at home with Indian Twist. Its delicious, nutritious and easy recipe.
Indian Roti Pizza recipe is an Indian variation of Italian Pizza which you can easily prepare at your home without oven and can enjoy a delicious snacks recipe with your family. It is nutritious because this Pizza is rich in fiber due to the use of whole-wheat flour and raw vegetables.
Ingredients Required to Prepare Pizza
Whole-wheat flour : 100 gm.
Coarsely chopped capsicum : 1 nos.
Finely chopped onion : 1 nos.
Ghee : 1 teaspoon
Boiled and mashed potato : 1 nos.
Finely chopped tomato : 1 nos.
Finely chopped cilantro leaves : 1 teaspoon
Chat Masala : As per taste
Black pepper powder : As per taste
Red chili powder : As per taste
Salt : As per taste
Cooking Method to Make Pizza Without Oven
First of all, make a thick Roti from whole-wheat flour. This Roti will work as base of the Pizza.
Now, slightly bake this Roti from one side on medium flame. Then, turn it and bake completely from another side.
Now, apply some Ghee over the top surface of Roti, so that, it will not stick to the iron plate when turn it again to bake this surface completely.
Once, the bottom surface of Roti baked completely, turn it and let the semi-baked surface bake completely on low flame.
Meanwhile, you have to prepare the top of the Pizza by spreading all the vegetables and spices over the baked surface of Roti.
For that, apply some Ghee over the baked surface of Roti.
Then, spread an even layer of tomato sauce over it.
Now, sprinkle Chat Masala as per taste.
Then, spread a layer of mashed potatoes over it.
Add some chopped onion.
Now, add chopped tomato.
Then, add chopped capsicum.
And finally, add some chopped cilantro leaves.
Now, sprinkle spices over it.
Sprinkle salt, black pepper powder, red chili powder and chat masala as per taste.
Slightly press the toppings of the Pizza with spatula, so that, the toppings of the Pizza will not fall down while eating.
You can decorate your Pizza with grated cheese. It will give a beautiful look to your Pizza, as well as, enhance the taste of Pizza.
If you love this Pizza recipe, write us your comments.
Author: Sonia Goyal