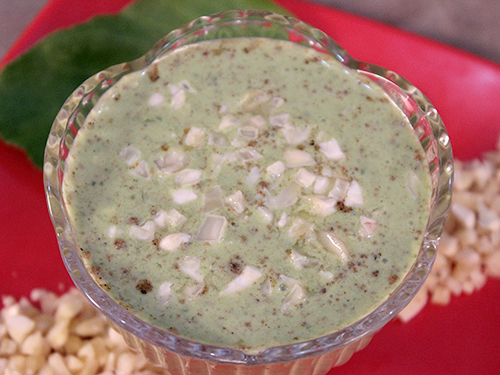 Almond spinach raita recipe (बादाम पालक रायता रेसिपी) is a yogurt base dish which gives a nutritional blast to your food menu.
This raita recipe is prepared with minimal ingredients including fresh yogurt, overnight soaked almonds and boiled spinach and flavored with powdered red chili and garam masala. Boiling the spinach not only makes mixing easier, it also becomes a bit easy to digest.
This recipe works well with your parties menu and good to enjoy with your daily meals such as paratha, dal-rice, pulao, khichdi, savory porridge etc. However you can enjoy this alomnd spinach raita on your fasting days. Only you need to replace the normal salt with rock salt and powdered red chili with powdered black pepper.
It is a healthy recipe and recommends for the people who has low iron count. Enjoy the goodness of yogurt, almond and spinach together in this raita recipe!
Serving              :       2 Persons
Prep Time         :      10 Minutes
Cook Time        :       0 Minute
Total Time        :       10 Minutes
Ingredients Required To Make Almond Spinach Raita Recipe:
1. Yogurt                             :         250 gm
2. Spinach                           :          75 gm
3. Almond                           :          75 gm (soaked overnight)
4. Red Chili Powder         :           1/2 tsp
5. Salt                                   :           To Taste
6. Garam Masala               :           1/2 tsp
Almond Spinach Raita Recipe Video:
Almond Spinach Raita Recipe Step by Step Instructions:
You need to blanch spinach for this recipe.
Put spinach leaves in boiling water and drain immediately.
Then plunge it into iced water and keep it aside.
Now peel the soaked almonds and chop roughly.
Then churn yogurt, blanched spinach and salt together in a grinder.
Take out this yogurt spinach mixture in a bowl. Add remaining ingredients in it.
Delicious and nutritious almond spinach raita is ready to serve at room temperature or chilled.
Notes :
Do not keep this raita at room temperature for long, it will get sour.
Other Posts:
---
---
Make almond spinach raita recipe and write me your feedback in comment area below.