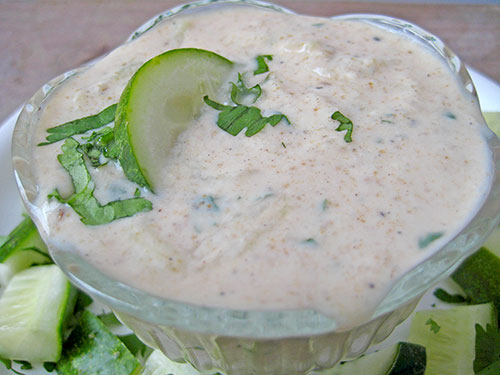 Cucumber raita appears very frequently on our lunch/dinner table as it is a simple, quick and mouth-watering side dish recipe which can be made and eaten in all the seasons and accompanied with many parathas, pulav, biryanis, savory porridge, khichdi, basmati rice.
This cucumber raita recipe (खीरे के रायते की रेसिपी) is made with palin yougrt and grated cucumber with the addition of green coriander leaves, roasted cumin powder and black pepper powder which gives it a zing to the palate.
Cucumber raita exists as an important variety of dish in main course menu. It is very healthy dish to be had with many vrat recipes also like : samvat rice, sabutdana khichdi, aloo fry and many knid of vrat (fasting) pooris. If you want to use this cucumber raita during fasts then you need to replace the regular salt with sendha namak (rocking salt) on fasting days.
So let's check out the step by step method of this cooling, refreshing and yummy recipe.

Cucumber Raita Recipe : Video
Cucumber Raita Recipe : Step by Step Instructions
Delicious cucumber raita is ready.

You can serve it with pulav or tehari, paratha, and roti.

You can refrigerate it for 1/2 an hour and can serve it chilled as it tastes best when served chilled.

In short it is heavenly, yummy goodness.
Many prefers to squeeze the water after grating the cucumber. I don't like to get rid of that nutritious liquid. So I add the grated cucumber as it is without squeezing.
As you know that cucumber and yogurt both are cooling to our body. So it perfect dish to have it during the hot weather.
Related Recipes :