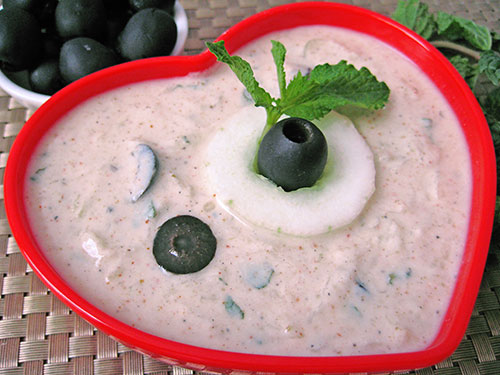 Hello friends! Once again I have come up with raita recipe (रायता रेसिपी) which works well as a great side dish with all Indian Dishes. It also balances the heat with its cooling properties due to mint and yogurt. This raita also works as a good, low fat, party dip.
This olive cucumber mint raita recipe (ओलिव खीरा पुदीना रायता रेसिपी) gets ready by fresh yogurt, grated cucumber, chopped mint leaves with the addition of black olives and some light spices which refreshes your palate after eating some spicy Indian curries. It balances the heat and mellows down the spiciness of the food !
Read on this few steps raita recipe which is easy to prepare, nourishing to serve and a tasty source of calcium.

Olive Cucumber Mint Raita Recipe : Video
Olive Cucumber Mint Raita Recipe : Step by Step Instructions