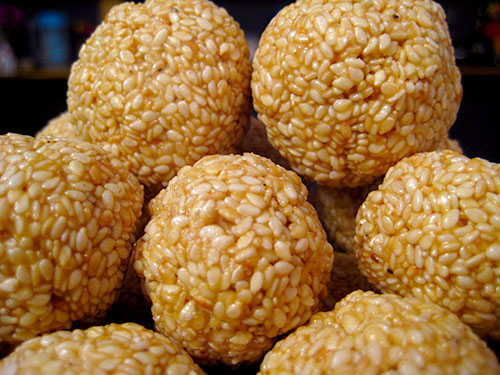 Til Laddu Recipe (तिल लड्डू रेसिपी) is an Indian cuisine dessert recipe which is an essential part of Makar Sakranti festival and also good to cater your sweet tooth in winter months. This laddu recipe made with minimal ingredients and tastes delicious.
Enjoy making this quick recipe of til laddu which is healthy, nutritious and yummy at the same time.
Servings             :               500 gm
Prep Time          :               0 Minute
Cook Time         :               1 Hour
Passive Time     :               1 Hour
Ingredients Required For Til Laddu Recipe :
White sesame seeds          :                250 gm
Jaggery                                  :                250 gm
Cardamom powder            :                1 tsp
Til Laddu Recipe Video:
Til Laddu Recipe – Step by Step Instructions:
Dry roast sesame seeds in a wok until light pink so the raw taste of sesame seeds will go away.
Now melt jaggery in a pan or wok by stirring it continuously.
Add sesame seeds and cardamom powder in jaggery and mix very well.
Apply a small amount of water on your palms and make medium sized balls from this mixture.
You need to make laddu from warm mixture. If the mixture will become cool, then the balls will not bind.
In this case, you need to heat the mixture again.
Sweet and delicious "Til ke Laddu" are ready to eat. Let your laddu set for a while and then store in a jar.
I wish all my readers a Happy Lohri and Makar Sakranti.
Other Dessert Recipes :
---
Try this til laddu recipe and write me your feedback in comment area below.