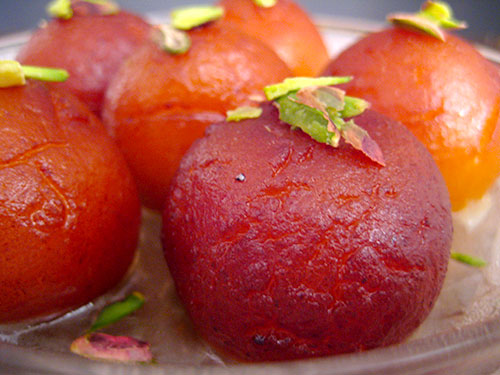 Gualb Jamun recipe (गुलाब जामुन रेसिपी) is a deep fried milk solid (known as khoya or mawa in Hindi) based dessert which sweetened with sugar syrup. It is a famous dessert recipe from Indian Cuisine which is often made and eaten at festivals, birthdays or major celebrations such as marriages etc.
Serving               :           15 Pieces
Prep Time          :           20 Minutes
Cook Time         :           1 Hour 30 Minutes
Total Time         :           1 Hour 50 Minutes
Let's take a quick view of the ingredients required to make this delicious delight:
1. Khoya                                                :            250 gm
2. Maida Flour                                     :           50 gm
3. Sugar                                                 :            150 gm
4. Water                                                :            100 ml
5. Chironji                                             :             2 tsp
6. Green Cardamom Powder           :              1 tsp
7. Ghee                                                   :             250 ml
Gulab Jamun Recipe : Video
Step by Step Gulab Jamun Recipe:
First of all, we will prepare sugar syrup.
Add sugar and water in a pan and cook it till sugar dissolves completely.
Then add 1/2 tsp cardamom powder in it and switch off the flame. Keep it aside.
Mix khoya and maida flour uniformly.
Then rub it for few minutes with the heels of your fist to make a smooth mixture.
Make medium sized balls from this mixture.
Now flatten the ball by pressing it between the palms. Stuff it with 2 chironji and a pinch of cardamom powder and again make a ball.
Heat ghee in a kadahi and deep fry all the balls on low flame until dark brown.
Then immerse the fried balls in sugar syrup for one hour.
Serve these delicious Gulab Jamun hot.
Recipe Note:
If the gulab jamuns are fried on high heat, they will become hard inside and not fully cooked.
Other Posts:
---
---
Make this delicious gulab jamun recipe and write me your feedback in comment area below.