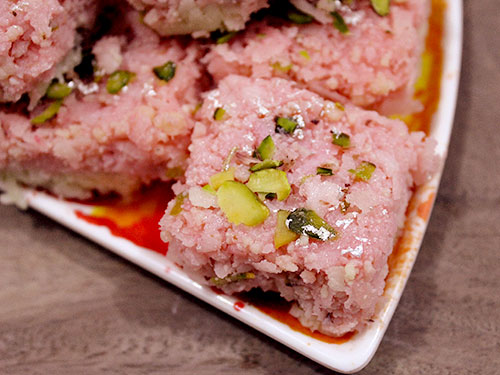 Rose coconut burfi recipe (गुलाब नारियल बर्फी रेसिपी) is a fasting dessert recipe from Indian Cuisine. This delicious delight is made on festivals including Navratri, Diwali, Karwa Chauth etc.
Rose coconut burfi is prepared with fresh and grated coconut, milk, khoya and sugar. Red food color and rose essence are used to give red rose color and rose aroma to this burfi recipe. Pistachio chips and silver foil have been used for garnishing.
This burfi recipe differs from traditional coconut burfi in a manner that it is infused with rose aroma. The taste is delicate, delicious and quite tempting. The shelf life of this rose coconut burfi is 2-3 days under normal refrigeration.
Servings           :   10 Piece
Prep Time       :    5 Minute
Cook Time      :    40 Minute
Passive Time  :     45 Minute
We need:
1. Milk                          :              1 liter
2. Fresh Coconut       :              1 (grated)
3. Khoya                      :              100 gm
4. Sugar                       :              100 gm
5. Pistachio Chips     :              2 tbsp
6. Food Color Red     :             2 drops
7. Rose Essence         :             2 drops
8. Ghee                        :             1 tsp
9. Silver Foil               :             2 sheets
Rose Coconut Burfi Recipe : Video
Rose Coconut Burfi Recipe : Step by Step
Add milk and grated fresh coconut in a pan. Put it on high flame and stir it continuously until it boils.
Now let it cook on low flame until the entire milk is aborbed by the coconut. Remember to stir it occasionally.
Add khoya, sugar, rose essence and 1 tbsp pistachio chips in it. Cook it on low flame for 5 minutes by stirring it continuously.
Divide this mixture in two equal parts and add red color in 1 part.
Grease a tray with Ghee and spread plain mixture in it evenly. Let it set for few minutes.
Then spread colored mixture over it evenly, and garnish it with pistachio chips. Let it set for few hours.
Decorate your delicious barfi with silver foil. Cut it in square pieces and serve at room temperature.
Other Posts:
---