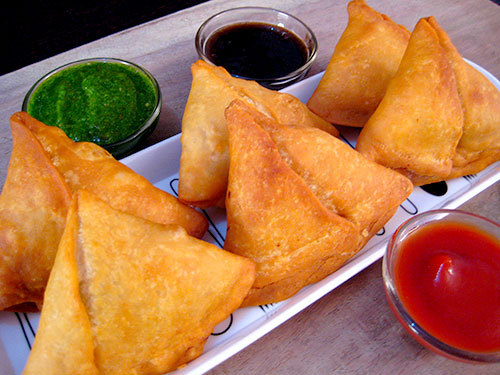 Samosa recipe (समोसा रेसिपी) is a famous vegetarian snack recipe of Indian Cuisine. It is made with refind or maida flour and stuffed with potato mixture. It is an ideal recipe for breakfast, good for tea time snack and also perfect for vegans.
It is served with coriander chutney, tamarind chutney or tomato sauce. These accompaniments give a balance flavor of spicness, sweetness and tanginess to this samosa. It can also be enjoyed plain or with yogurt.
Flaky deep fried samosa recipe filled with savory potato will tickle your taste buds for more. Take a quick look on the ingredients required to make yummy mouthwatering Samosa.
Serving                :     10 pieces
Prep Time           :     10 Minute
Cook Time          :     30 Minute
Passive Time      :     40 Minute
Ingrediens for Samosa Recipe:
Maida flour      :    200 gm
Salt                     :    1 tsp
Oil                       :     2 tbsp
Stuffing for Samosa is prepared with:
Boiled Potatoes               :        5
Salt                                       :        to taste
Red Chili Powder             :        1 tsp
Garam Masala                   :        2 tsp
Dried Mango Powder     :        2 tsp
Coriander Seeds              :        2 tsp (coarsely ground)
Cloves                                 :        5 (coarsely ground)
Whole Black Pepper       :         10 (coarsely ground)
Cashew and Raisins        :         2 tbsp
Ginger                                 :         1 tsp (grated)
Oil                                         :         250 ml (to deep fry samosa)
Samosa Recipe Video:
Samosa Recipe : Step by Step Instructions
Start the preparation of Samosa with kneading maida flour.
Mix maida flour, salt and oil in a bowl.
Add water gradually and knead it to make soft dough. Then cover it and keep aside.
Now heat oil in a pan and crackle coarsely ground spices in it.
Then mash the boiled potatoes and add in the hot oil.
Also add the remaining ingredients in it and cook on low flame for 5 minutes.
Make 3 inch sized ball from maida dough and roll it.
Cut it from the center and apply water at the longest edge.
Now make a cone from it.
Stuff it with the potato mixture and seal it properly.
Prepare all samosas in the same way.
Now heat oil in a wok and deep fry all samosas on medium flame until golden brown.
Delicious samosas are ready. Serve them hot with coriander chutney, tamarind chutney and tomato sauce.
Other Recipes:
---
---
Make this samosa recipe and write me your feedback in comment area below.