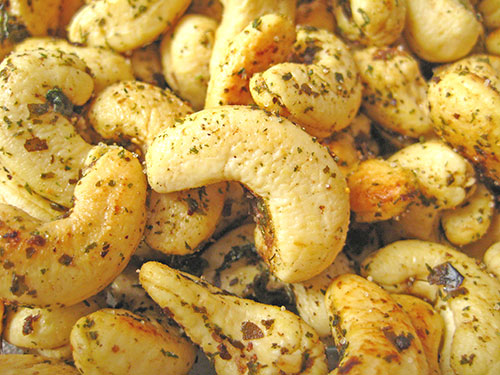 Making something nutritious and fresh always doubles the happiness. The same is with our fried cashew nuts recipe in which cashews are coated with some light spices and are always great as a holiday party snack or simply to munch anytime.
It is an easy and quick snack to eat anytime of the day with a cup of hot tea or evening drinks and we all love it for the tangy masala coating and nicely stir fried cashew goodness.
This fried cashew nuts recipe (फ्राइड काजू रेसिपी) basically belongs to kolhapuri cuisine which is made with whole cashew nuts, pan fried in butter and coated with tamarind paste, chat masala, dried fenugreek leaves (sukhi methi) powder, salt and curry leaves. This can be easily stored in an airtight container for at least 15 days.
Read ahead this zippy, nutty and crunchy recipe of kolhapuri fried kaju and make a nice gift for your loved once in a pretty jar.

Fried Cashew Nuts Recipe : Video
Fried Cashew Nuts Recipe : Step by Step
Add remaining ingredients in it, mix it well and leave it for half an hour to reach it at room temperature.

Now you can store it in air tight jar and can use it for 15 days.
See other snack recipes :
For subscription :