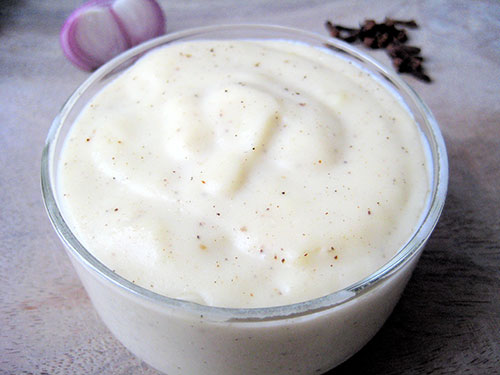 Today's recipe is from Italian cuisine which is used as a base of many dishes. Yes! It is white sauce recipe. All of my family members love to eat white sauce pasta and I toss the pasta with homemade white sauce!
White sauce is also known as bechamel in french is an easy but versatile sauce recipe and I would like to tell you that it is one of the very first recipes taught to aspiring chefs.
It is one of the mother sauces. This is a basic sauce recipe which is made with butter, refind or maida flour and milk. It is flavored with salt and black pepper powder. The whole sauce has to be done in low heat to retain the white color of the sauce and you have to mix all the ingredients well. Also you need to stir it constantly while making otherwise it will burnt.
Once you know the basic skills to make this white sauce, the selection of dishes you can create will be endless. So friends try out the white sauce recipe (व्हाइट सॉस रेसिपी) and give an italian treat to your love ones!

White Sauce Recipe : Video
White Sauce Recipe : Step by Step Instructions
Switch off the flame and take out onion, bay leaf and clove.

A delicious white sauce is ready to make your other dishes sumptuous.