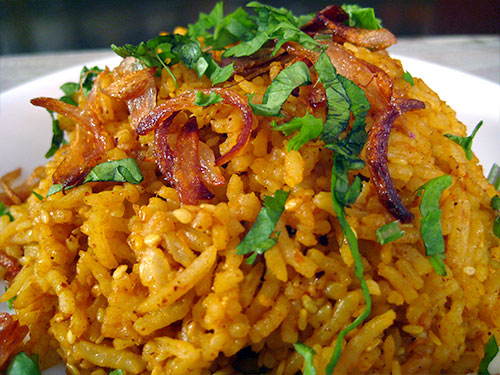 Hi Friends! After sharing the Kashmiri Pulao Recipe, Now I have the famous south indian preparation sesame tamarind pulao recipe (तिल इमली पुलाव रेसिपी) for you which is commonly served as 'prasad' in South Indian temples during the festivals and occasions.
Rice is the staple food for more than half of the world and we Indians are very familiar with Rice Recipes as they aur super easy to prepare and quick too specially when hunger pangs are drumming away! Rice is one grain that is about 98% percent digestible and considered as a wonderful stomach filler.
The sesame tamarind pulao recipe is made with basmati steamed rice, tamarind pulp, sesame seeds added to the crunchy taste and falvoured with some light spices. It is a great recipe for utilizing the leftover rice and works well in the breakfast or snacks timings however I used the fresh steamed rice in this pulao recipe. You can adjust the tamarind, spices and salt levels according to your taste.
Tamarind acts as a preservative. That is the prime reason this dish is generally preferred for travels and also perfect for a picnic meal.
So, If you're bored of the usual or veg  pulao, go for a refreshing change with this sesame tamarind pulao recipe!

Sesame Tamarind Pulao Recipe : Video
Sesame Tamarind Pulao Recipe : Step by Step Instructions
It will add delicious flavor from South India in your meals.
Related Recipes :
For subscription :
Subscribe Sameer Goyal at ekunji to get recipe updates.
Try this sesame tamarind pulao recipe and write me your feedback in comment area below.