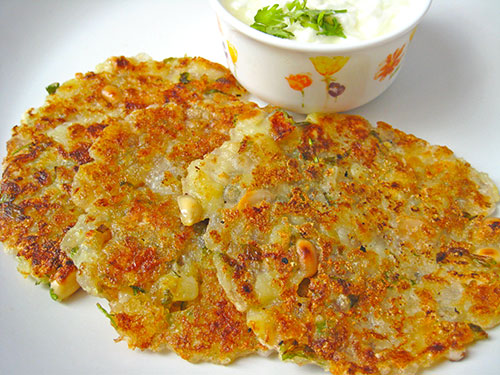 Hello friends! In Today's post we will read about sabudana roti recipe (साबुदाना रोटी रेसिपी) which is an ideal and one of the most common option during the fasting days.
There are lot of restrictions during fasting when it comes to food. Sabudana is widely used during fasting days and this subudana roti is a light and perfact snack recipe for those who are on fasting.
The ingredients for making sabudana roti are almost same as making sabudana vada but this roti recipe requires very less oil to fry which makes it more healthy.
Sabudana roti recipe is a flat bread recipe that is made from tapioca pearls (sago) and spiced with green chilies, potatoes and peanuts. This recipe is best eaten fresh and hot, and can be served with fresh plain yogurt or curd or with coriander chutney.
Crisp outside and soft inside… it tastes really yummy and is very filling too. Let's move on to the sabudana roti recipe which can be enjoyed on navratri, shivratri, janmashtmi, ekedashi, or any other vrat.

Sabudana Roti Recipe : Video
Sabudana Roti Recipe : Video
Sabudana Roti Recipe : Step by Step Instructions
Crispy sabudana roti is ready to serve. You can serve it hot with yogurt and coriander chutney.