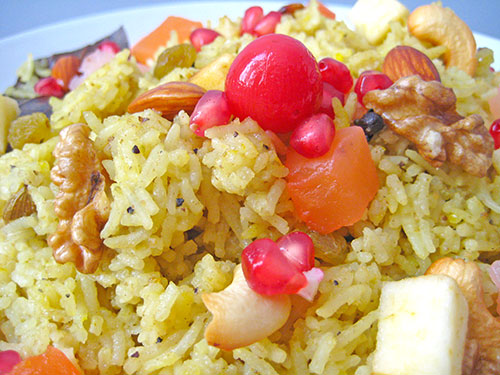 Kashmiri Pulao Recipe (कश्मीरी पुलाव रेसिपी) – An aromatic, mild and sweet colorful pulao made with basmati rice, nuts and fruits.
Kashmiri pulao recipe is the traditional and most famous rice dish of kashmiri cuisine. No other Kashmiri dish is as popularized all over India as this pulao.
It is one of the best classic pulao recipes or rice recipes not only for kids, but for all those who like the mild and sweet flavors in their meals.
This kashmiri pulao is made by basmati rice, pomegranate seeds, apple, pineapple, papaya, cherry and shallow fried almonds, cashew nuts and walnuts which give it crispness and crunch in every spoon. You can bring variations in your kashmiri pulao by using different mix of fruits and dry fruits.
Scroll down to give a try to this easy and mouth-watering recipe of kashmiri cuisine which can turn your any occasion into a special occasion with its delectable aroma and richness!

We'll require some more ingredients to garnish this sumptuous Kashmiri Pulao, including :
Some chopped fresh fruits or canned fruits including :
Kashmiri Pulao Recipe : Video
Kashmiri Pulao Recipe : Step by Step Instructions
Add fennel seeds powder, cardamom powder and sugar in the roasted spices.

Add milk with saffron, water and salt to taste.

Then cover the lid, and let your rice cook on medium flame until whole water is absorbed by rice.

When rice cooked completely, serve in a platter and garnish with all the dry fruits and fresh fruits.

Very delicious, aromatic, colorful, healthy Kashmiri pulao is ready to win the hearts of your family members and guests.
Related Recipes :
Subscribe Sameer Goyal at ekunji to get recipe updates.
Try this delectable kashmiri pulao recipe and write me your feedback in comment area below.