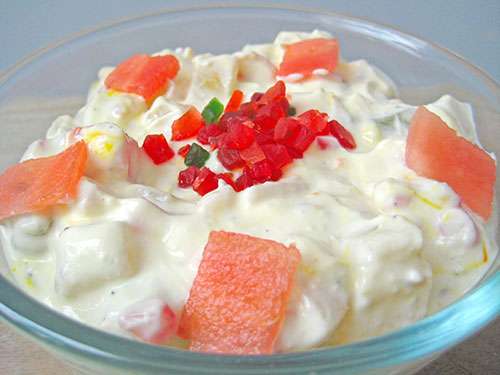 Friends! Let's make fruit cream recipe (फ्रूट क्रीम रेसिपी) today, which is an Indian sweet pudding made with various fruits, dry fruits, hung yogurt and cream. It is served chilled and is very much enjoyable in every season.
Combining the goodness of fruits, the taste and the richness of yogurt and cream, it is really a tasty and refreshing dessert.
Fruit desserts are always best for health conscious persons because they are easy to digest and contains nutritional values. This recipe is an ideal dessert for parties and kids who are really fussy while eating fruits and also very good for fasting days.
Let's move on to the fruit cream recipe which is just perfect dessert after a lavish dinner due to its freshness and balanced sweet taste.

Fruit Cream Recipe : Video
Fruit Cream Recipe : Step by Step Instructions
Your family members will fond of this fruit cream and will demand it again and again.
The consistency of this dessert should not be liquid. The fruits should be well coated with the cream.
Other Dessert Recipes:
---
Subscribe Sameer Goyal at ekunji to get recipe updates.
Make delightful fruit cream recipe and write me your feedback in comment area below.