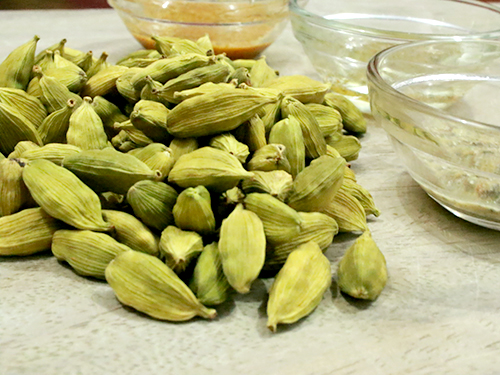 Health benefits of green cardamom (हरी इलायची के लाभ) are numerous as they include the ability to treat mouth ulcers, infections of the mouth and throat, prevents cough, cold and flu symptoms, cures headache, used to get rid of impotency and many more. It also gives relief from hiccups problem due to its anti-spasmodic properties.
Green cardamom is an ayurvedic medicine and has been used for a long time to improve health conditions. The medicinal benefits of green cardamom comes from its antiseptic, antioxidant, antispasmodic, carminative, digestive, diuretic, expectorant, stimulant, stomachic and tonic properties.
It is a good source of minerals like potassium, calcium, sulfur, and magnesium along with iron and manganese. Further, it is rich in many vital vitamins, including riboflavin, niacin, and vitamin C.
These nutrients make it one of the most expensive spices. It is also regarded as the "Queen of Spices" by the health experts.
This little green spice has store a wide range of health benefits for you. Read and enjoy it in below post!
Health Benefits Of Green Cardamom : Video
1.  
Health Benefits Of Green Cardamom To Treat Mouth Ulcers
Add 1/2 tsp honey in the powder of 1 cardamom.
Apply it on mouth ulcers.
It is recommended to repeat it for few days to cure mouth ulcers and throat ulcers.
2.  
Health Benefits Of Green Cardamom Prevents Cough
Mix 1 tsp cardamom powder with 1 tsp dried ginger powder.
Divide this mixture in 4 equal parts.
Add 1 tsp honey to 1 part of this mixture and eat it.
Consume the whole mixture in this way in 4 times a day.
It cures cough in few days.
3.  
Health Benefits Of Green Cardamom To Get Rid Of Hiccups
Crush 4 cardamom pods along with their shells.
Add these cardamoms in 500 ml water.
Boil this water till half and then sieve it. Let it become lukewarm.
Drink it daily ones a day to cure hiccups.
4.  
Health Benefits Of Green Cardamom To Increase Potency
Green cardamom is useful to increase potency.
Grind 2 cardamoms and add in 1 glass cold milk.
Also add 1 tsp honey in it.
Drink it daily at bed time to increase potency in few days.
5.
 Health Benefits Of Green Cardamom To Cures Headache
Make a paste of 5 cardamoms with small amount of water.
Apply this paste on forehead to cure headache.
In addition to this, it is recommended to inhale cardamom powder gently.
It causes sneezing because of which headache cures.
Other Health Benefits of Cardamom Are :
Treating urinary disorders
Good for nausea and vomiting
Beats bad breath
Relieves acidity
Fights anemia Take the advantage of above mentioned health benefits of cardamom and share your comments and feedback with us.
Other Health Posts :
---
---
Write me your feedback and queries about general health in the comment area below.