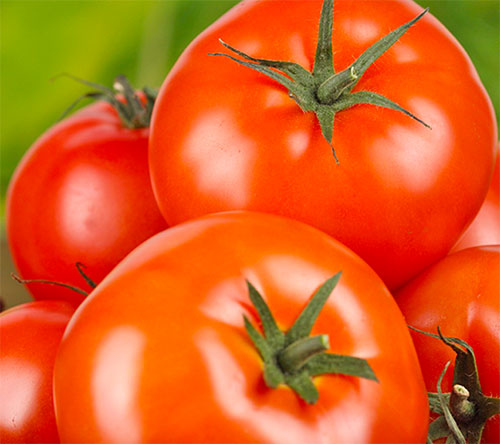 The tomato benefits for health (टमाटर के लाभ) are incredibly numerous including prevent loss of appetite, tongue scum/coating, constipation, intestinal worms and pimples, itching and many more.
Tomatoes are often considered a vegetable, though in actuality they are a citrus fruit. They are an incredibly versatile food. They are filled with nutrients and antioxidants that help combat several diseases as well as keep your health in good shape.
Tomatoes help to keep our heart healthy and prevent cancer due to existence of lycopene – which is found in all red fruits and vegetables and is highest in concentration in tomatoes. Their higher acid content ensures they are an ideal food items for canning.
Find below the nutritional chart of Tomato :
Tomato Nutrition : (Per 100 gm)
Energy 74 kJ (18 kcal)
Carbohydrates 3.9 g
Sugars 2.6 g
Dietary fiber 1.2 g
Fat 0.2 g
Protein 0.9 g
Vitamins :
Vitamin A equiv (5%) 42 μg
beta-carotene (4%) 449 μg
lutein zeaxanthin 123 μg
Thiamine (B1) (3%) 0.037 mg
Niacin (B3) (4%) 0.594 mg
Vitamin B6 (6%) 0.08 mg
Vitamin C (17%) 14 mg
Vitamin E (4%) 0.54 mg
Vitamin K (8%) 7.9 μg
Minerals :
nesium (3%) 11 mg
Manganese (5%) 0.114 mg
Phosphorus (3%) 24 mg
Potassium (5%) 237 mg
Other  constituents :
Water 94.5 g
Lycopene 2573 µg
Source : Wikipedia
All the minerals and vitamins of tomato turn have many scientifically proven health benefits. In short one tomato in a day will full fill all your need to remain healthy. Read ahead the associated health benefits of tomato.
Health Benefits Of Tomato : Video
Health Benefits Of Tomato 1 – Loss of Appetite
Tomato keeps our digestion system healthy. Tomato also cures loss of appetite.
Take 50 ml tomato juice.
Add 1 tsp fresh lemon juice, 1 tsp ginger juice and rock salt to taste.
It is recommended to drink it daily once a day.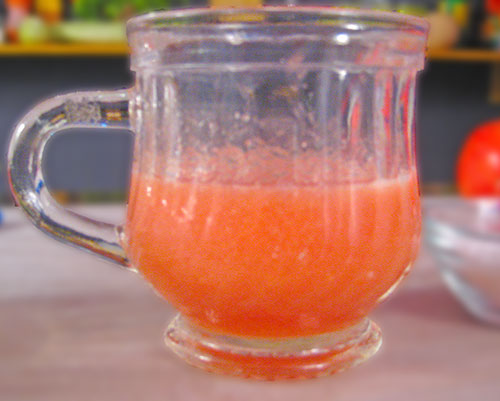 It keeps digestion system healthy and cures loss of appetite.
Health Benefits Of Tomato 2 – Tongue Scum/Coating
Coated tongue or tongue scum is the sign of stomach ailments. It is specially observed in children.
We can get rid of tongue scum easily by using tomato.
Roughly chop 1 tomato and sprinkle salt over it.
Eat it daily for few days at any time in a day.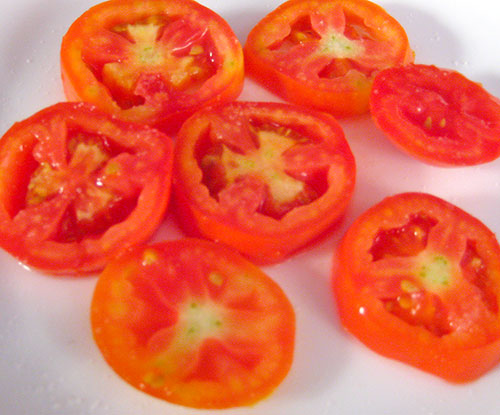 Tongue scum and coating clears by doing it continuously for few days.
Health Benefits Of Tomato 3 – Constipation, Intestinal worms, Pimples
Take 100 ml tomato juice.
Add 1 tsp fresh mint leaves juice, 1 tsp fresh lemon juice, 1/4 tsp black salt, 1/4 tsp Epsom salt and 1 tsp black mustard seeds powder to it and mix it well.
Drink this tomato juice daily in morning and in evening.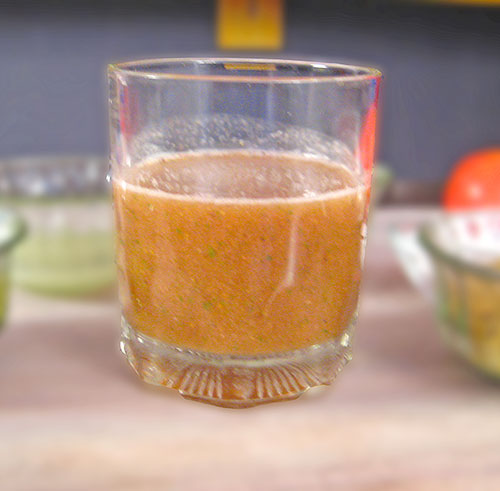 It cures constipation, intestinal worms and pimples. It also cures darkness of skin.
Health Benefits Of Tomato 4 – Itching
Tomato juice is beneficial for health and skin care because it contains vitamin A.
Take 1 tsp tomato juice. Add 2 tsp coconut oil to it and mix it well.
Do massage with this mixture over areas of itching on body. Then take a bath with lukewarm water.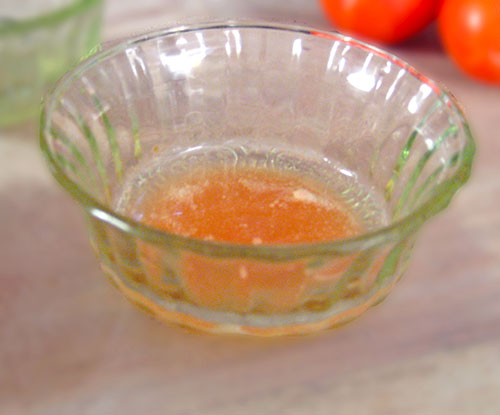 Doing it regularly for few days cures itching all over body very quickly.
The best part is that tomatoes are naturally low in sodium, saturated fat, cholesterol and calories. They go well in salads and sandwiches, as gravy for vegetables, and in sauces and soups.
Enjoy the great health benefits of tomato and stay heal and hearty!
Related Posts :
---
---
Write me your feedback and queries about general health and beauty tips in the comment area below.