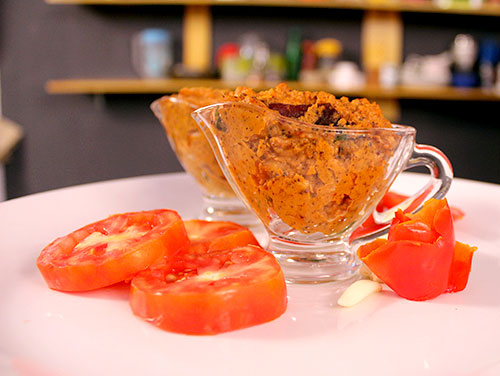 Tomato chutney recipe (टमाटर चटनी रेसिपी) presented here is a condiment recipe from South Indian cuisine.
This tomato chutney recipe is very different from other tomato chutney recipes and sauces in a manner that the sharpness of sour taste of tomatoes balances with roasted chana (chickpea) and roasted peanut. Inclusion of garlic, gingers and cloves make it delicious as well as add nutritional value to this recipe and help to improve the digestion. Dried whole red chili and whole black pepper make this chutney a little spicy and use of jaggery adds mild sweet flavor to this chutney recipe.
Overall it is a complete package of Indian spices and flavors.
Chutneys are an indispensable part of Indian food. There is a wide variety of chutneys those can be used either as a dip or as a sauce with various snacks and food. Those chutney recipes can be sweet, piquant, sour, sweet-n-sour, or mild. Few of those are served hot, few are at room temperature.
This tomato chutney is one of those condiments which is enjoyed with various South Indian breakfast recipes including Idli, Dosa, Uttapam, Vada. It also goes well with various Parathas, Sandwiches and Dhokla. It is very good condiment recipe for vegans also.

Servings

Prep Time

200

gm

5

minutes
Cook Time

Passive Time

10

minutes

15

minutes
Servings

Prep Time

200

gm

5

minutes

Cook Time

Passive Time

10

minutes

15

minutes
Ingredients Required To Make Tomato Chutney :
Ingredients Required to Temper Tomato Chutney:
Tomato Chutney Recipe: Video
Tomato Chutney Recipe : Step by Step Instructions
Heat 1 tbsp oil in a pan.

Crackle 1/2 tsp black mustard seeds, 1/2 tsp curry leaves, 1 clove, 3 black peppers, split black gram, chana dal, and fenugreek seeds 1/2 tsp each and 2 red chillies.

Add roasted chickpea, roasted peanut, ginger and garlic in it and cook on low flame for few minutes.

Now add tomatoes and salt in it. Cover the lid and let it cook on low flame for 5 minutes.

Switch off the flame after 5 minutes and let it cool.

Now add jaggery in it and grind it in a grinder or mixer.

Finally, heat remaining oil in a pan and crackle all the remaining ingredients in it and temper your chutney.

Your delicious sweet and sour tomato chutney is ready to enjoy!