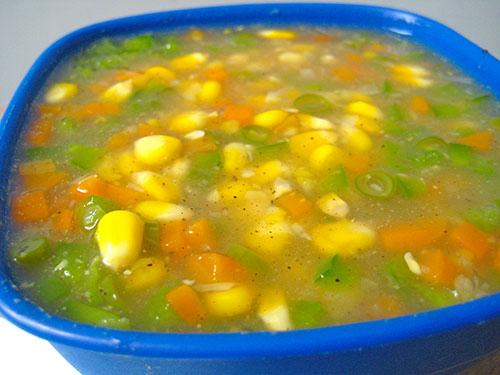 Friends! Nothing can beat the warmth and coziness of a warm bowl of homemade soup offers in monsoons. Today, I have Sweet Corn Soup Recipe (स्वीट कॉर्न सूप रेसिपी) for you which is an Indo-Chinese recipe.
The main ingredient of the recipe is american sweet corns and some other vegetables including carrot, french beans, capcicum, corn etc. Corn flour or cornstarch is added to make the soup thick. Salt and black pepper is used to season the soup.
Most of the kids dislike to eat veggies, but sweet corn soup is an easy way to add veggies into their everyday diet routine and because of semi-liquid consistency, soups helps to cure constipation too. Warm soups help to relieve and soothe common cold and cough problems as well and relaxessore throat too.
Sweet corn is packed with dietary fibers and carbohydrates, having good amounts of minerals like zinc, magnesium, copper and iron and also contains antioxidants and vitamins B-complex group, vitamin A.
This soup recipe an ideal appetizer or even if you have everything ready in your hands then it goes well in the breakfast or snacks timings too.
Try this sweet corn soup recipe which is so versatile that you can combine it with almost any vegetable and the outcome will be a nutritional healthy soup. Give a treat to your loved once of this delicious beverage recipe!

Sweet Corn Soup Recipe : Video
Sweet Corn Soup Recipe : Step by Step Instructions
Finally let it simmer for another 5 minutes and then serve hot.