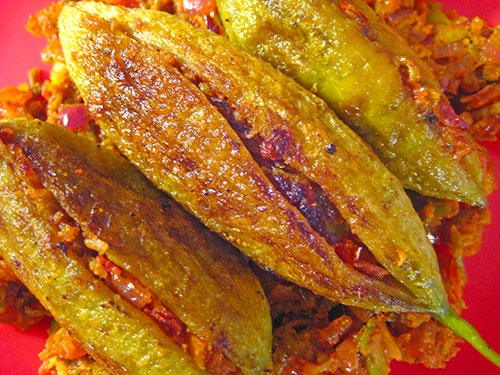 Guys, today I'm making a vegetable which is very healthy and is widely used in Indian cooking throughout India. It is stuffed karela vegetable. This karela recipe is popular because the bitterness of karela is reduced to almost nil in this recipe and many other flavors are included.
This is a traditional and authentic stuffed karela recipe (भरवां करेला रेसिपी) which I am sharing with you through this post. The main ingredients constitute Karela or bitter melon (also known as bitter gourd). Company of raw mango, onion, tomato, salt and various powdered spices makes it delicious. Salt plays an important role in this karela recipe to toning down the bitter taste of Karela.
It performs excellent in lunch or dinner, accompanied by daal, kadhi, curd rice or plain parathas. This stuffed karela is also good to carry in travelling as it has good shelf life.
Karela or bitter gourd is one of the healthiest food items because karela is low in calories, and rich in iron, calcium, minerals and vitamins.
Though its slightly bitter in taste but is very good for people with diabetes, heart disease, constipation, also helps in boosting immune system, weight loss, liver health, purifies blood and helpful in healing skin disorders and many more health benefits, so it should be included in our diet which ever way possible.
Let's move on to the step by step recipe of stuffed karela !

if raw mango is not available, then 2 tsp dried mango powder or amchur powder can be used
Stuffed Karela Recipe : Video
Stuffed Karela Recipe : Step by Step Instructions
Now, slit the bitter melons without cutting through and remove the seeds.

Take water in a pan, add 1 tsp salt in it and boil bitter melons in this water until slightly tender.

Now drain the water and let the boiled bitter melons cool.

Meanwhile, we will prepare stuffing mixture to stuff in bitter melons.

Now open the lid and add all the spices. Again cook this mixture for 2 minutes on low flame.

When stuffing mixture cooked well then switch off the flame and let the mixture cool.

Reserve the remaining stuffing mixture for final serving.

Heat oil in a fry pan and shallow fry stuffed bitter melons on low flame until light brown.

Wonderful stuffed karela is ready to serve.

You can serve these bitter melons hot or at room temperature. Untie threads at the time of serving and serve this wonderful vegetable with the remaining stuffing mixture.