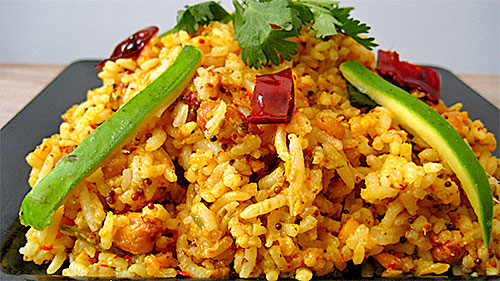 Raw mango pulao recipe (कैरी पुलाव रेसिपी) is a popular South Indian rice recipe. It is made by rice, raw mange, bengal gram, coconut and few spices.
Rice are steamed separately for this pulao recipe. Dry spices are then ground with half of the raw mango to make paste. Few other spices are crackled in hot oil or Ghee to enhance their aroma and to make them crunchy.
Paste of spices and boiled rice are then added to the crackled spices and mixed thoroughly.
Although the raw mango pulao recipe is served as main dish without any accompaniment, but in many regions of South India, it is also served with Sambar or Dal.
Scroll down to see this tangy and spicy raw mango recipe with video.

Servings

Prep Time

2

people

5

minutes
Cook Time

Passive Time

15

minutes

20

minutes
Servings

Prep Time

2

people

5

minutes

Cook Time

Passive Time

15

minutes

20

minutes
Raw Mango Pulao Recipe Video:
Raw Mango Pulao Recipe : Step by Step Instructions
Wash and soak rice for 5 minutes to start the recipe.

Then, boil rice in sufficient water with ghee and salt.

Meanwhile grind black mustard seeds, dried whole red chili peppers, turmeric powder, desiccated coconut, asafoetida, salt and 50 gm raw mango together to make paste.

Now heat oil in a pan and crackle black mustard seeds, bengal gram and 1 dried whole red chili pepper in it.

Add peanuts, curry leaves and remaining raw mango and cook it for 5 minutes on medium flame.

After 5 minutes, add paste of spices in it and cook it for another 5 minutes on low flame and stir it occasionally.

Finally add cooked rice in it and mix thoroughly.

A delicious, tangy and spicy south Indian rice recipe is ready. Serve it hot.
Try this tangy raw mango pulao recipe at home and write me your feedback in comment area below.