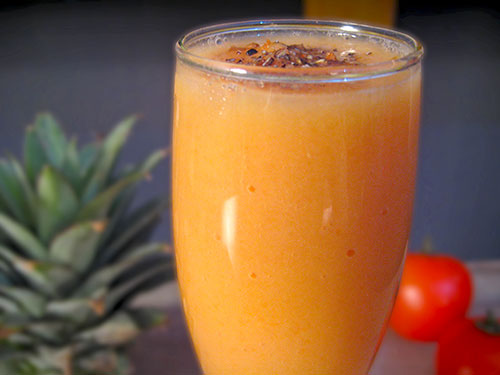 Papaya pineapple smoothie recipe (पपाया पाइनएप्पल स्मूथी रेसिपी) is one of the healthy and luscious drink. A homemade smoothie for your morning diet is an excellent choice for the breakfast on-the-go. You can make it in minutes before you leave the house and sip it on your way to work, school or just in your home office. Most fruits are high in antioxidants, vitamins and minerals adding a power boost to your day. Certain combinations are quite tropical and make a great summer treat.
Papaya and pineapple smoothie promotes digestive health! This is a very easy, quick and ultra-healthy recipe which is made with only 2 steps by using fresh papaya and pineapple, milk, a spoon of sugar and a pinch of cardamom powder. Read on the recipe below and enjoy summers!
Papaya Pineapple Smoothie Reacipe : Video
Papaya Pineapple Smoothie Reacipe : Step by Step Instructions
Put 100 gm chopped papaya, 100 gm chopped pineapple, 150 ml milk and 1 tsp sugar in your grinder.

Blend it well to achieve a thick beverage.

You can also add crushed ice to it to serve it chilled.

Garnish it with 1/4 tsp of green cardamom powder and enjoy your power bank beverage.

Papaya pineapple smoothie is just what the doctors ordered. I hope you guys enjoy this drink as much as I did when I made it.
Other Smoothie Recipes:
Subscribe Sameer Goyal at ekunji to get recipe updates.
Try healthy papaya pineapple smoothie recipe and write me your feedback in comment area below.