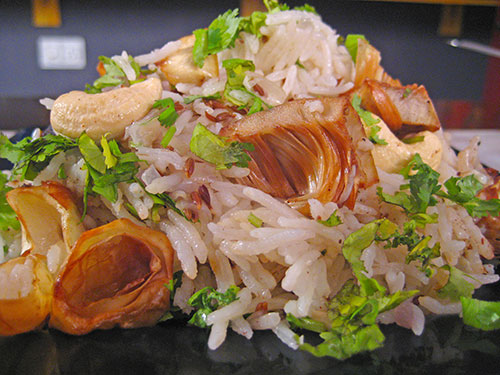 Hi Friends! Today I am sharing an exotic, flavorful, delicious pulao made from a seasonal veggie jackfruit or kathal. Yes, its Jackfruit Pulao Recipe (कटहल पुलाव रेसिपी) from North Indian Cuisine.
This is prepared by jackfruit, rice, onion, ginger and garlic, whole and powdered spices and with cashew nuts. This is a lip smacking and wholesome pulao recipe.
Jackfruit is high in carbohydrates, has vitamin A, protein, potassium and fiber. This forms jackfruit pulao a great choice for an energy rich lunch or dinner.
This is an uncommon recipe which is mostly prepared in many houses of Bengal. This jackfruit pulao recipe is good choice for the menu when hosting a party and goes well with vegetable raita or plain curd or yogurt.
Follow the step by step recipe of jackfruit pulao in below post to get the accurate results.

Jackfruit Pulao Recipe : Video
Jackfruit Pulao Recipe : Step by Step
Then heat ghee in a separate pan and add whole spices and garlic paste.

Then add ginger and cook for 2 minutes on low flame.

Finally add rice, salt and water and then cover the lid. Let the rice cook on medium flame.

Switch off the flame when rice absorbed entire water and cooked well.

Delicious jackfruit pulao is ready. Garnish it with cashew nuts and coriander leaves at the time of serving.