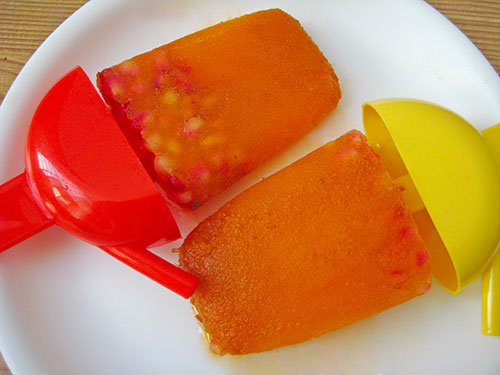 Hello friends! Welcome to the popsicle week. Yes, we are going to make orange popsicle recipe (ऑरेंज पॉपसिकल रेसिपी) today and even I am enjoying this week as popsicle week with my little daughter.
For the summer time there's nothing better than a homemade popsicle and the good thing about this popsicle recipe is you don't have to spend a fortune, just a little patience, and experimentation of How-to-make-popsicle!
This is a simple, natural and totally healthy recipe made with fresh and natural orange juice which makes it healthy, orange squash, fresh pomegranate seeds, roasted cumin seeds powder and black salt and froze for 5 to 6 hours.
Read ahead and find this step by step orange popsicle recipe in the below post and have a popsicle in your fist this summers.

Orange Popsicle Recipe : Video
Orange Popsicle Recipe : Step by Step Instructions