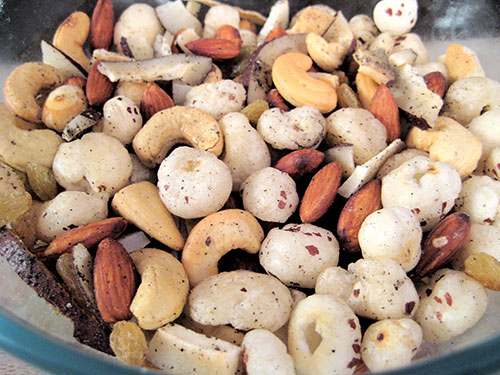 Hello friends! Let's make dry fruits namkeen recipe (ड्राई फ्रूट्स नमकीन रेसिपी) today, which is one of the popular fasting recipes of indian cuisine. There are a variety of things eaten on fasting days such as singhara or kutu aata puri, fried potatoes, sabudana khichdi or roti, fruits etc. If you are looking for something more healthy then try this dry fruits namkeen recipe.
It is a good falahar namkeen recipe prepared with phool makhana or lotus seeds, almonds, cashew nuts, raisins and dry coconut. The phool makhna also know as lotus seeds are extremely yummy, healthy, light and digestible. You can increase or decrease the amount of any nuts or dry fruits as per your choice.
Apart from the fasting days you will enjoy this dry fruits namkeen when you feel little hungry or keep munching whenever you feel like. Infact you can serve it as a snacks to your kids instead of giving them any packed food. You can also serve this namkeen with any kind of smoothies and get an additional nutritional benefit for your kids health..
It has good shelf life and can be enjoyed on navratri, shivratri, janmashtmi, ekedashi, or any other vrat. Give a try to this nutty and crunchy dry fruits namkeen recipe.

Dry Fruits Namkeen Recipe : Video
Related Recipes :
For subscription :