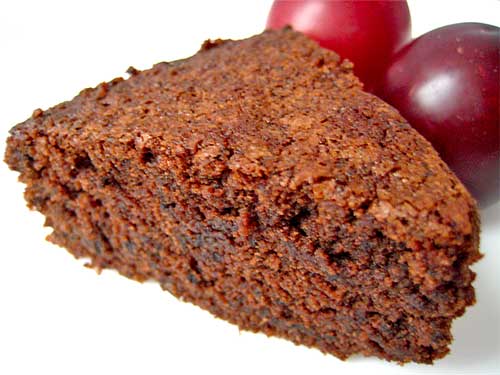 Basic chocolate cake recipe (चॉकलेट केक रेसिपी) is an easy dessert recipe to make at home. You can enjoy this chocolate cake recipe with or without icing.
This chocolate cake is made of refined flour, butter, sugar, egg, milk and cocoa powder.
Eggs are beaten first till ribbon consistency for this cake recipe. Then butter and sugar creamed together until creamy and fluffy. Refined flour, beaten egg, cocoa powder and milk are added in this creamy and fluffy mixture to make cake batter.
This cake batter is poured in a greased cake tin and then baked in oven at 180 degree Celsius for approximately half an hour to make delicious spongy basic chocolate cake.
Scroll down to see the detailed recipe with video.

Basic Chocolate Cake Recipe Video :
Basic Chocolate Cake Recipe : Step by Step Instructions
First of all, beat eggs with electrical beater on high speed for 8 to 10 minutes. Brings the eggs on ribbon consistency.

After beating the eggs take butter and sugar in a separate bowl and beat it on slow speed until it becomes fluffy and creamy.

Now swift refined flour and cocoa powder in this creamy mixture.

Set your oven to pre-heat at 180 degree Celsius and meanwhile prepare the cake batter.

Add half of the beaten eggs in refined flour and fold it with cut and fold method.

Add remaining egg in it and again fold it.

Now add milk and vanilla essence in this mixture and fold it gently with light hands.

Grease your cake tin with butter and pour your cake batter in it.

Put your cake tin in pre-heated oven and bake your cake at 180°C for 30 minutes.

After 30 minutes take out the cake from the oven.

Let it cool in cake tin for 5-10 minutes and then demould it.

Your delicious spongy chocolate cake is ready. Either cut the slices and serve it directly or apply your favourite icing over it and then serve it.
See also:
Enjoy delicious and spongy chocolate cake recipe at home and write me your feedback in comment area below.