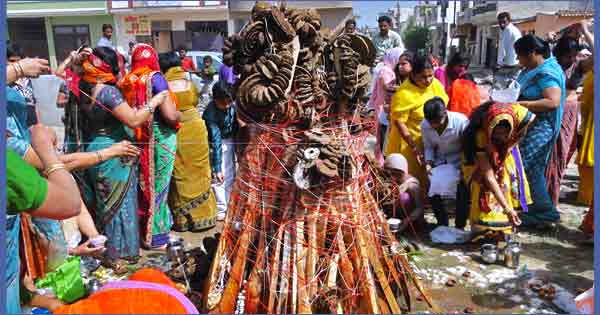 Holi puja is performed on the day before Holi (Dhulandi). Holi puja is an important ritual and performed across India.
In recent time, Holi Puja is performed in India in large groups, whereas few years back, individual families used to do Holi puja and Holika dahan at their home also.
Holika dahan is the day when Holika is burnt down to ashes. But on this day Lord Shiva also burnt kamdeva, and Lord Krishna also killed demoness Putana. Therefore, devotees also do puja of Lord Shiva and Lord Krishna at their homes on that day.
We here describe how to do Holi puja or puja of Holika on the day of Holika dahan.
Holi Puja Vidhi – Materials Required for Holi Puja
First you have to collect these materials required for holi puja :
An earthen lamp filled with ghee – 1 in nos.
Dhoop stick or agarbatti – 1 in nos.
Flowers – few
Chandan, ashtagandh or roli
Dry coconut and sweets (

Gujia

,

Gajar ka Halwa

, Malpua etc.)
Akshat (unbroken raw rice)
A glass of water
Moong lentil
Dry turmeric pieces – few
Raw yarn (soot ki kookdi) – 2 small spindle in nos.
Badkula garland or Gulari (garland made of cow dung) minimum 5 in nos.
Grains (barley, green chana etc.)
Holi Puja Vidhi – Method of Holi Puja
Holi is celebrated on Phalgun shukla poornima. So, on this day collect all above things required for Holi puja in morning.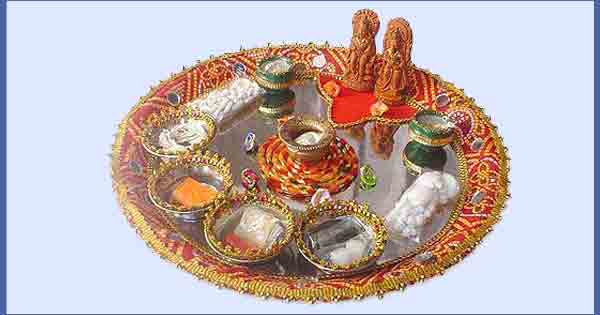 In evening, before Holika dahan, go to the place of Holika dahan with all puja material you collected.
Note :- Leave 4 Badkula garlands at home on the name of Lord Hanuman, Pitra, Goddess Shitala and your house. Take rest of all badkula garlands with you.
Now do this Holi Puja before Holika Dahan (also known as Thandi Holi Puja) :
First of all, light the earthen lamp and dhoop stick.
Do worship of Lord Ganesha first. Take some flower, rice and water in hand and remember Lord Ganesha. You can chant mantra "ॐ गं गणपतये नमः" (Om Gan Ganpataye Namah). Pray him to help you to complete your holi puja peacefully. Show lamp and dhoop to him. Offer tilak, sweets, coconut and water to him.
Then do

worship of goddess Durga

and Lord Narasimha similarly. You may chant their names instead of any mantra. Show lamp and dhoop to them. Offer tilak, coconut, sweets and water to them.
Now do puja of Prahlad by chanting "ॐ प्रह्लादाय नमः" (Om Prahladaya Namah). Show lamp and dhoop to him. Offer tilak, sweets, coconut and water to him.
Now do the worship of Holika. Show lamp and dhoop to her. Pray, "Some people created you due to constant fear of blood sucking demons. Therefore, I worship you. I seek prosperity, wealth and power for me."
Then offer rice, flower, sweets, coconut, turmeric pieces, moong lentils and badkula to her.
Also circumambulate and tie 1 spindle of raw yarn around Holika. (keep one raw yarn spindle in your puja thali to take it to your home).
Now offer water to her. Empty your glass of water in front of Holika.
Holika is burnt after above Holi Puja. Now do following Holi Puja after Holika Dahan :
Roast the grains in the bonfire and take them to your home. Distribute it among family members as prasad. Show the remaining raw yarn spindle to bonfire and take back to your home. Also, pick some fire from bonfire (burning Holi) and take it to your home.
You can perform 2 rites with this fire. You can put some dhoop powder on it and move it in your entire home for purification of home. Or you can do a small havan with this fire as you do

Havan on Navratri

.
After that, all family members put tilak on forehead and get blessings of elders.
This way Holi puja is performed in each home all over India. Customs may vary according to place.
Holi Puja Vidhi – Worship of Lord Shiva on Holi
Devotees of Lord Shiva do Shiva puja on Holi because Lord Shiva burnt kamadeva on this day.
They worship lord Shiva and pray him to destroy illusive tendencies of their mind.
If you want to do Shiva puja on Holi you can see these videos.
How to do Shivalinga Puja on Holi
How to do Panchanan Shiva Puja on Holi
Next day of Holi puja, people enjoy sprinkling dry and wet colors (gulal etc.) on each other.
They make many kind of dishes such as Gajar ka halwa, Mathri, Gujia, Chiwda, Malpua, Kanji vada etc.
You can see Holi recipes articles by Sonia Goyal.
This year Holi puja is on 16th March 2014. Holika dahan will be in evening between 6:32 pm to 6:57 pm. Also Holi (Dhulandi) is on 17th March 2014.
I wish you and your family a Very Happy Holi !!
Subscribe Me to know Puja Vidhi on various festivals of India.