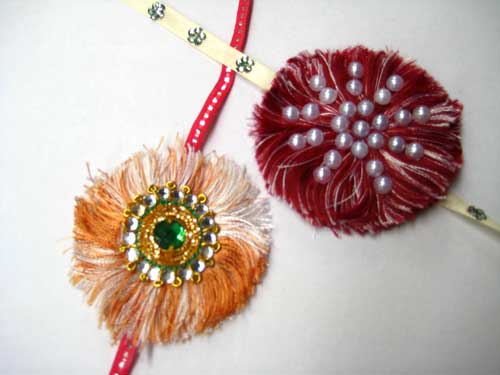 Rakhi making at home is very lovely for all the girls. After all, Rakhi is the festival of brothers and sisters. Learn here how to make Rakhi at home.
I'm telling you a very easy method of Rakhi making at home. Kids can also make a beautiful Rakhi for their Rakhi making competition in school or for their craft activity with the help of this Rakhi making concept.
I'm using silk thread to make Rakhi, because silk thread is considered best in Raksha Bandhan festival traditionally.
Here is the list of all the necessary material to make Rakhi at home.
Rakhi Making : List of Material
Silk Thread (1 or more colors)
Bangle
Satin Ribbon
General Craft Items to decorate Rakhi
Used Tooth Brush
Glue
Rakhi Making Video
Watch the following video to learn to make Rakhi at home.
Rakhi Making : Step by Step Instructions
Tie one end of silk thread on a bangle and wrap it over the bangle.
When it covers almost quarter of the bangle, tie it at the centre from a thick thread.
Cut all the loops of silk thread at the periphery of the bangle.
Now, flatten it from both the sides.
Brush it from an old tooth brush to make it symetric.
If few of threads are not in-line, you can trim your Rakhi at the periphery.
Paste a piece of satin ribbon at the back of the Rakhi.
Now, decorate it with beads or some other decorative items of your choice.
You can now prepare beautiful Rakhi in your own style for your loving brother.
---
---
Make a beautiful Rakhi for your loving brother on this Raksha Bandhan festival by your own and write me your feedback in comment area below.