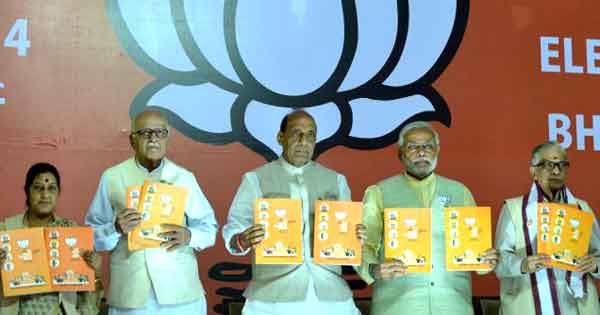 After all, much delayed BJP Manifesto 2014 released on Monday, April 07, 2014, just between the 1st phase of Lok Sabha election 2014 in Assam and Tripura.
As I wrote in my last post on Congress Manifesto 2014, the comparative study of Congress Manifesto and the BJP Manifesto will give opportunities to voters to understand the ideology of both the largest Indian political parties properly, so this is the time to compare.
"All Indian political parties released manifesto for 2014 Lok Sabha elections very late. Delaying the manifesto till elections is reflecting the ignorance of value of manifesto by the political parties in democracy which is not a good sign", said Namita Pandey – Professor of politics in a college in Jaipur.
It is notable that Congress released the manifesto on Wednesday, 26th March 2014 which was already considered very late.
Some important questions raised here:
Do you also think the same what Namita Pandey said that the Indian political parties are ignoring the value of manifesto?
Is manifesto now just a formality and electoral ritual for Indian political parties? If yes, then do you think that the parties will seriously work to fulfill their promises when come in force?
When the promises made by a company for their products and/or services come under legal enforcement and you can claim under consumer protection rights to get the fulfillment of the words of the company, so do you think that the manifesto should also comes under some legal enforcement to ensure the fulfillment of promises for which you vote for a particular party?
Do you think that the Indian politics is changing rapidly and moving towards presidential election system of United States?
Apart from the delaying in manifesto, now the serious discussion on the manifesto and the ideology of the political parties must be started for the development of India.
BJP presented its 16 points agenda after the 15 pledges of Congress. New slogans also released in BJP Manifesto 2014 which say, "Ek Bharat, Shreshta Bharat" and "Sabka Saath, Sabka Vikas" which seem the efforts of BJP to counter the regular attacks of Congress on Narendra Modi's one man show biz.
BJP Manifesto 2014 brings BJP on the severe attacks of all the political parties because of the inclusion of Ram Mandir issue in the manifesto. Some of the experts are saying that the Ram Mandir issue will prove the communalism of BJP rather than secularism. Others are saying that Ram Mandir issue is included in BJP Manifesto 2014 after the open support of Imam Bukhari to Congress.
It is notable that the Congress president Sonia Gandhi met Bukhari few days back, after which Shahi Imam of Delhi's Jama Masjid – Syed Ahmed Bukhari – appealed on Friday, April 04, 2014 to Muslims to vote in favor of Congress and its allies.
According to the experts, this appeal can shift remarkable number of Muslim votes from BJP to Congress and could be game changer. BJP included Ram Mandir in the manifesto to counter this electoral strategy of Congress to attract more Hindu votes.
Do you think both Congress and BJP are still playing electoral game on the name of religion whereas the Lok Sabha election 2014 was supposed on the basis of development issues and good governance?
Is Indian politics still seriously suffering from communalism including the issues related to religion, caste, race, region etc.?
Along with all these sensitive issues, I'm trying to compare what Congress and BJP are offering an Indian voter on 22 issues in their Manifesto.
Issue
BJP Manifesto
Congress Manifesto
Education
6% of GDP will allocate for education, Review of school
system
Make RTE effective thoroughly, Work to reduce dropout rate
Employment
Boost labor intensive sectors, Make job exchanges career
centres
Create 10 crore jobs
Health
AIIMS like institute in every state
Raise spend to 3% GDP
Growth
No target
8% plus in 3 years
Urbanisation
100 new cities
100 new urban clusters
Corruption
Technology enabled e-Governance, Simplify laws to combat
corruption
Enact laws, guarantee services
Black Money
Bring back black money to India
Appoint special envoy to bring black money
Price Rise
Special courts to stop hoarding, Price stabilisation fund,
Un-bundle FCI operations
Steps to tame inflation
Taxes
Get states to adopt GST, Simplify regime, Overhaul dispute
resolution set-up
Ensure DTC, GST bills enacted in 1 year, Avoid retroactive
taxes
FDI
No to multi-brand retail, okay in all other sectors
Promote FDI specially in labor intensive sectors
Banking
Steps to rationalize interest rates, Credit boost for
low-cost housing
New law for financial sect0r, roadmap for bad loans planned
Social Sector
Implement food security, Bring law on rights of persons with
disabilities, Bring Women's reservation bill, Ensure rape laws implemented,
Fund for acid attack victims
Start a fisheries ministry, Back WRB, Fast track courts for
crimes against women
Farm Sector
Link MNREGA to Agriculture, Raise public investment, Ensure
minimum 50% profit
Increase productivity and farm incomes via higher investment
Manpower
Set up Veterans Commission, Address shortage, Implement one
rank one pension
Fulfilled demand for one rank one pension, to set up
ex-service men commission
Judiciary
Start National Judicial Commission, Modernize courts, Speed
up appointments
Enact appointments and Accountability bills, Deal with
backlog, Set up fast track courts
Police and Internal Security
Assist states on modernization, strengthen home-guards,
civil defense
Provide modern tech, weapons to police, more manpower
Defense Sector
focus on defense equipment, support services, revamp
Modernize, boost local manufacturing
Nuclear
Revise nuclear doctrine, Maintain credible deterrence,
Invest in thorium program
Continue credible deterrence, Second strike capability
Industry and Infrastructure
Single window approval at all levels, Time-bound green
approvals, New industrial regions, Back PPPs with more autonomy to
regulators
Time-bound green approvals, Focus on SMEs, 10% manufacturing
growth, $1tn in infra projects, better regulated PPPs
Foreign Relations
To engage with neighbors without being led by big power
interests, Firmly deal with cross-border terrorism, Friendly ties but act
strongly if required
Dialogue with Pak in line with 26/11 accountability, Help
combat global terrorism, Seek permanent UNSC membership
Foreign Policy
Tap NRIs, PIOs; Reorient goals, content, processes, expand,
empower diplomats
Protect NRI's expatriate Indians, To back Tamils' demand in
Sri Lanka
Macros
Enforce fiscal discipline without compromising on funds for
asset and development
Fiscal deficit at 3% of GDP by 2016-17, amend FRBM law.
Only the time will tell us whose government will form in center in 2014, but after studying and analyzing the ideology of BJP and Congress, do you think any of these parties will succeed to:
Accelerate the growth and development in India in next 5 years?
Give good governance in next 5 years?
Achieve the projected targets of general health, education and employment?
Write your answers here in comment area below and also ask your friends to answer these questions. Raise your voice and Be the part of change.
Author: Sameer Goyal