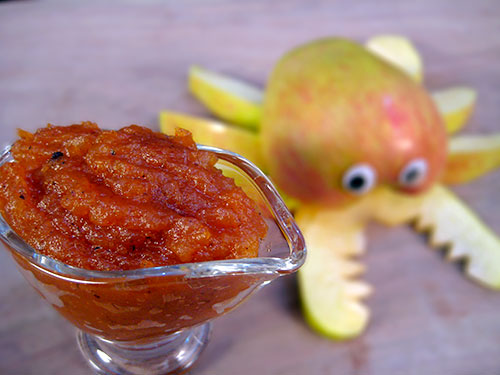 Apple sauce recipe (एप्पल सॉस रेसिपी) is a condiment which is made with apples and some other ingredients. It is widely used in the United Kingdom, North America and some European countries.
Apple sauce is richly flavored having tart and sweet both tastes, filled with fiber, and rich in vitamin C. It is often serve in breakfast as well as served as a dessert in British countries. Homemade apple sauce is easy to make, quick and a good option to include apples in diet especially for those who does not like to eat apples directly.
Let us show you how easy it is to make so you can make it at home and can enjoy nutritious, nice soft textured apple sauce recipe!
Serving                      :               500 gm
Prep Time                 :               10 minutes
Cook Time                :               20 minutes
Passive Time            :               30 minutes
The handful ingredients required to make this apple sauce:
1. Apple                                                :              1/2 kg
2. Lemon Juice                                   :              2 tsp
3. Salt                                                    :              to taste
4. Dry Ginger Powder                       :              1/2 tsp
5. Red Chili Powder                           :              1/4 tsp
6. Sugar                                                 :              100 gm
7. Garam Masala                                 :              1/2 tsp
8. Kashmiri Red Chili Powder         :               1/4 tsp
Apple Sauce Recipe : Video
Apple Sauce Recipe : Step by Step Instructions
Peel apples and chop in small pieces.
Take 1 cup water in a pan. Add chopped apple in it and boil until apple tenders.
Now add all the ingredients in it and cook it on medium flame until whole water vaporizes.
Mash it very well and add lemon juice in it.
Delicious apple sauce is ready. Let it cool and then fill in an air tight jar.
Note :
Since apple sauce is high in pectin, it works as a home remedy to combat diarrhea.
Read other recipes :
---
---
Make healthy applesauce recipe and write me your feedback in comment area below.