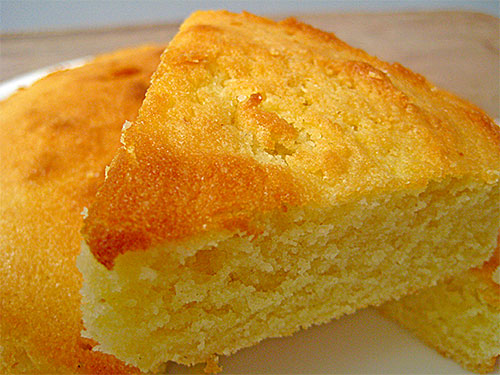 Today I am sharing basic sponge cake recipe (स्पंज केक रेसिपी). It is made of refined flour (wheat flour), butter, sugar and eggs. I've also added vanilla essence in it to give it vanilla flavor.
This is a basic sponge cake recipe which you can serve with tea and coffee. You can also eat it as snacks. Once you practice this basic sponge cake recipe, you can make more than 30 varieties of cakes at home on the basis of this basic cake recipe.

Sponge Cake Recipe : Video
Sponge Cake Recipe : Step by Step Instructions
We will start our recipe with beating the eggs. Add vanilla essence in eggs and beat with an electric beater on high speed for 8 minutes.

After beating the eggs, take butter and sugar in a separate bowl and beat it on slow speed till the mixture becomes creamy and fluffy.

Now sieve refined flour in butter sugar mixture.

Add half of the beaten eggs and mix it by cut & fold method.

Add remaining egg in it and again mix it by cut & fold method.

Add milk in this mixture and mix it very well to make the batter.

Grease the cake tin with butter and pour your cake batter in it. Don't fill cake tin more than half because the cake will rise during baking.

Put the cake tin in preheated oven at 180 degree Celsius and bake the cake on 180 degree Celsius for 25 minutes.

After 25 minutes, take out the cake from the oven.

Let it cool for 5 minutes and then demould it.

Delicious sponge cake is ready. Cut the slices or wedges of it and serve it with tea or coffee.

You can store it in an airtight container without fridge for 4 days.
Enjoy delicious sponge cake recipe and write me your feedback in comments area below.