Today, I am sharing kesar pista kulfi recipe (केसर पिस्ता कुल्फी रेसिपी) in this post.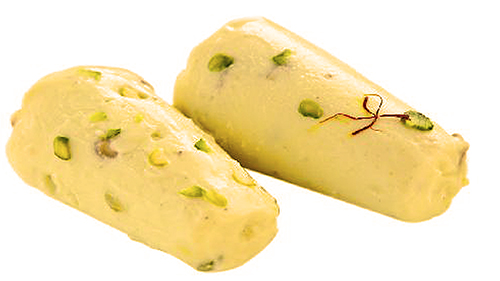 This kesar pista kulfi recipe (Saffron pistachio kulfi) is a classic Indian traditional ice cream recipe made of milk, fresh milk cream, sugar, saffron and pistachio.
The best part of this kulfi recipe is, no artificial color, essence and flavors added to it.
It is believed that the kulfi recipe was originated in the Mughal Empire, which ruled India in the 16th to 18th centuries. It was prepared in royal kitchens using ice brought in from the Himalayas. This is documented in the Ain-i-Akbari, a detailed record of the Mughal emperor Akbar's administration.
Scroll down to print this delicious dessert recipe (also eaten as snacks) named kesar pista kulfi and to watch the recipe video.

Servings

Prep Time

6

people

0

minutes
Servings

Prep Time

6

people

0

minutes
Servings

Prep Time

6

people

0

minutes
Servings

Prep Time

6

people

0

minutes
Kesar Pista Kulfi Recipe Video:
Kesar Pista Kulfi Recipe : Step by Step Instructions
Heat milk in a heavy bottom karahi.

When the milk starts boiling, reduce the flame and add all the ingredients in it. Stir it continuously to dissolve sugar completely.

Let the milk boil on low flame till it reduce to half. It will take approximately 35 to 40 minutes.

Meanwhile stir it occasionally to avoid sticking the milk to the bottom of the karahi.

When the milk is reduced to half, remove it from flame and leave it to come at room temperature.

Pour this mixture in ice cream moulds and place the moulds in freezer overnight.

Delicious and creamy kesar pista kulfi will get ready in morning.
You can also use condensened milk to make kulfi. It will reduce your total cooking time very much. But the best taste of kulfi comes when you boil milk on low flame for long because this slow boiling process not only condensed the milk but also make it creamy.
You can also add 1 tea spoon crushed almonds in this kulfi recipe.
What are you waiting for? Try this delicious and classic kulfi recipe today and share your experience with me by writing comments below.
Author: Sonia Goyal