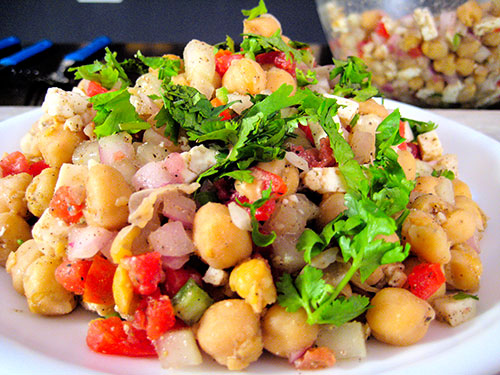 Chickpea salad recipe (चना सलाद रेसिपी) : Super easy to make, tastes so FABULOUS can be enjoyed as a breakfast, side dish in a lunch or dinner or eaten as a meal by itself. Yup…. you are getting me right! Today, will make a nutritious salad recipe with the help of a versatile ingredient Chickpea.
Chickpea salad can easily made with some ingredients usually available in our kitchen like : chickpeas, cucumber, onion, tomato, green chillies, fresh lime juice and used some spices for flavor. The only thing you need to soaked and boiled the chickpeas. It is a very goog source of protein, dietary fiber, potassium, iron, sodium, magnesium and vitamins A, B6, and C.
There is as such no definite recipe of this sald as you can add or subtract the veggies and other ingredients as per your choice. This recipe is a perfect combination of quickness, easiness and healthiness.
To make this chickpea salad recipe, just do boiling, peeling and tossing everything together and you will get the benefits of chickpea in minutes..!

Related Recipes :
Subscribe Sameer Goyal at ekunji to get recipe updates.
Make nutritious chickpea salad recipe and write me your feedback in comment area below.