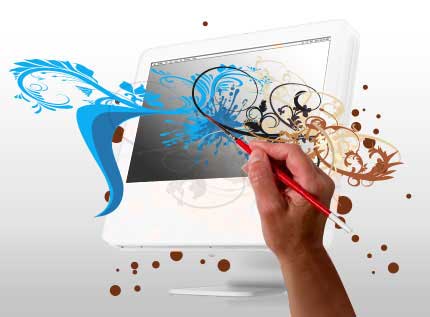 Web designing is not new for this world. Web designing is an integral part of today's IT industry. We are living in the era in which career in web designing is flourishing rapidly and one of the most promising career options.
It was a time when dark blue backgrounds, floral patterns, blinking text and couple of graphic effects were used on web pages. Now, proper information architecture, skillful website structure, easy navigation, technical solutions, artistic visual impacts are the contents of a good web page which completely changed the scenario of career of a web designer.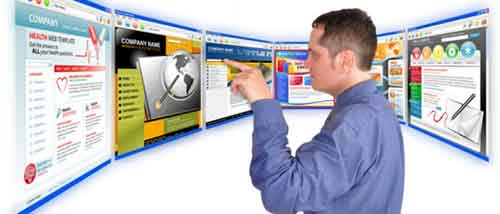 What Is A Web Designer?
Web designer is a technically skilled person who can handle the entire process of designing a website which includes:
Planning
User interface
Information architecture
Navigation
Website structure
Website layout
Fonts
Color schemes
Graphics, and
e-commerce facilities.
In nutshell, you can understand a web designer as a person who is responsible to meet the goal to make the website's look and feel awesome along with making it user-friendly so that the user of the specific website can search the desired information on that website without any struggle and can reach at any part of the website easily.
Web Designer Job Description, Duties and Responsibilities
Duties and responsibilities of a web designer always vary according to the part of website he (she) has to handle. Many times, a web designer has to work on some specific pages or specific part only; but many times, a web designer has to handle the entire web site.
Typically, a good web site has following well managed features:
Proper information architecture
Good programming in updated programming language
User-friendly layout of web pages
Well optimized for search engines (SEO)
Good server management
Proper internet marketing strategy
Perfect e-commerce solutions
Use of wonderful graphics
Subjective videos
Relevant audios
Updated contents etc.
Obviously, an individual web designer could not handle all the operations for a good and big web site project. Hence, the duties and responsibilities of a web designer vary with the role.
Key Duties and Responsibilities of a Web Designer
1. Planning, Planning and Planning
A web designer has to work in the similar way as a software developer works. For example, a web designer has to:
Tabulate the client's requirements
Properly document the requirements of the client
Has to preparing flowcharts, and diagrams to make the architecture of the website.
2. Developing Good Web Content
Though, only the client can provide the content for his website; but developing it in user-friendly fashion to satisfy the user intent is included in the responsibilities of web designer many times.
3. Take Care of Technical Issues
Web designer has to work on the evaluation of technical design requirements and the functional design requirements.
4. Error Free Programming
Web designer is responsible for writing html codes, Java scripts, design data base management system (DBMS) and many other programming and coding.
5. Look and Feel
Good visual impacts and user friendly environment of a website is always important for the owner of the website. It is therefore, an important duty of a web designer to apply current design techniques and design trends.
6. Rich Media
Rich media, i.e. graphics, images, and video are the essential ingredients of a good web page. Client can only provide these ingredients to a web designer, but only the web designer technically knows how to use, embed and call the rich media at desired location of a web page.
7. Overall User Experience With Error Free Environment
Once the web page or entire website becomes ready to upload, then the testing is also required to check the appearance of each content and proper functioning of all the buttons, menus and links. Web designer handles this serious testing task for fool proof functionality of the website.
8. Updation
Client always need to update his website regularly. Again, he can only provide the updates to a web designer. Making updates effectively with tight deadlines comes in the key responsibilities of a web designer.
9. Handling Server and Search Engine Issues
Web designer has to prepare sitemaps for search engines, has to upload the sitemaps, update the sitemaps, and register the website (or individual web page) with search engine so that the web page and website should index in search engines.
10. Keep an Eye on Security Issues
Website hacking is not new term for you. If you are a web designer, then the client will look towards you to make the provisions of web security.
11. Maintenance and Troubleshooting
Fixing errors, troubleshooting breakdowns, and improving the web page as per the new technology are also the responsibilities of a web designer.
Web Designing Courses
There are many courses available to learn web designing, i.e.:
Bachelor's degree in computer science can help you to become a web designer. Eligibility for this course is similar as any other bachelor's degree. Generally admissions are based on merit basis of the last qualified exam rather than separate entrance exam.
Master's degree in computer science is an advanced educational course for web designing. Eligibility for this course is the Bachelor's degree in computer science.
Some diploma and certificate courses focused on a specific area of web designing are also available and popular because generally every area of web designing is very vast and nobody could be a master of all. These courses for web designing are:

2D and 3D animation course
Advance certificate course in web designing
Diploma in multimedia
Diploma in 3D visualization and animation
Diploma in Graphic design
Advance diploma in web designing
Many online courses for web designing are also available in today's world.
Personal Skills of a Web Designer
Technical education of web designing and development is certainly essential for becoming a good web designer, but some interpersonal skills and other professional skills are also required for web designing without which a professional can not meet the client's requirements.
Artistic skills and exceptional creativity.
Problem solving skills.
Innovative, flexibility and adaptability.
Good communication skills.
Reasoning, general mathematics, good command over one or more communication languages.
Good typing speed (approx. 40-60 words per minute), and
Multi-tasking ability are always helpful for you to become a good web designer.
Web Designer Jobs Prospects
In today's world, every government organization, business organization, non-profit organization and many individuals have their own dedicated website. Therefore, career prospects in web designing are very wide and bright. Career of web designer is very secure and continuously growing option for all, whether programmers, designers, graphics experts, SEO experts, marketing experts or advertising masters.
Self employment and freelancing are also a very good career prospects for a web designer apart from the jobs in above said industries. Many websites are also there which provide web designing projects to the professionals with secure payment services.
A web designer can work for:
Specialist web design companies
IT consultancies
Software firms
Corporate organizations
Government organizations
Non-profit organizations
Advertising Agencies
Any individual who want to own a website or already having a website
Examples:
100+ Web Designer Jobs
Be Freelancer and Be Your Own Boss as a Web Designer
Web Designer Salary
Salary of a web designer depends on many factors including education, skills, experience and geographic location. According to BLS (Bureau of Labor Statistics), the median salary of a web designer as per May 2012 was US $62,500 per annum.
If you love to dive deep in the sea of internet, have a creative mind, and can work for the aesthetic comfort of internet user's retina; you can write your own codes to design your career as a web designer.
Author: Sameer Goyal